LITURGICAL FORMATION & RENEWAL PROGRAM
Signs and Symbols
Featuring Mildred Rego
14 March, 2023
Download the full text in PDF
Welcome to the third video for the Liturgical Formation and Renewal Program for the Archdiocese of Perth.
In this third video, Catechist Formation Services Field Officer Mildred Rego talks about Signs and Symbols.
The celebration of the Mass is full of signs and symbols. These signs and symbols point beyond themselves to a spiritual reality which we can comprehend and perceive through the lens of faith. They are the visible or tangible signs which the sacred liturgy uses to signify the presence and action of God.
Sacred signs become a means of grace leading us to an experience of God. When the Church community prays or sings or acts, the faith of those taking part is nourished, and their minds are raised to God so that they may offer him their spiritual homage and receive his grace more abundantly. (SC:33).
Sacred symbols used in liturgy convey a meaning that help us to deepen our experience of liturgy and of our faith.
Sacred signs and symbols used within the liturgy and the sacraments go beyond words and help to "materialise" the spiritual realities that we can experience.
These simple elements, originating from everyday life, are brought forward and made sacred, and invite us to reflect on the mystery of our faith. It is God acting in our lives. Light, water, oil, bread and wine are transformed from ordinary objects into the gift of God's grace and presence with us, and we too are transformed into images of Christ.
The signs and symbols in our liturgies are intended to move us to a conversion of heart, thereby transforming us in the mission of the Church to be Christ in our world.
In Christ Jesus,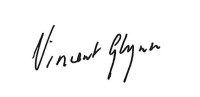 Very Rev Fr Vincent Glynn
Episcopal Vicar for Education and Faith Formation