Archbishop ordains Redemptorist in Perth
Article: by B Spinks, Photos: Supplied
The first Redemptorist to be ordained in Perth in 24 years took place on 3 December at North Perth monastery when Archbishop Barry Hickey ordained Fr Joseph Anh Do CSsR, 36, to the priesthood.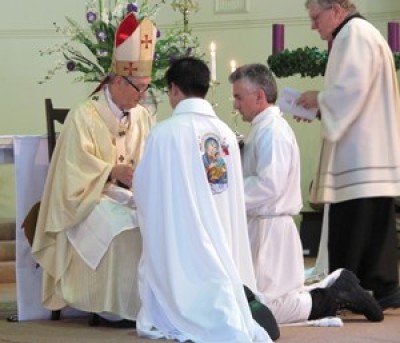 It was marked by a joyous gathering of Redemptorists, their lay partners in mission and their friends from all over Australia, but also from Vietnam, New Zealand and Indonesia.
Arriving in Australia in 2006, the then-seminarian Joseph Anh Do was one of the first young students to come to Australia from Vietnam at the request of the Australian province of the Redemptorist congregation.
Fr Joseph was born in Bien Hoa, 40 km away from Ho Chi Minh City in 1975, the same year the Vietnam War ended between communist North Vietnam and non-communist South Vietnam.
He grew up the sixth child in a family of nine and is the fifth child in the family to receive a religious vocation.
His eldest brother is married with three children; two of his younger siblings are married and one more is engaged.
Three of his sisters have joined the Dominican order and are based in Vietnam with their congregation.
But only his older brother who is also a Dominican, Fr Do Tuan Linh OP, and father, Do Cong Sing were able to come to his ordination.
His mother could not make the ordination for health reasons.
Fr Joseph was looking forward to the priesthood. He said he was looking forward to embarking on the next part of his faith journey and mission journey, and serving God through the people in spiritual direction and in administering the sacraments.
Fr Anh Do's first appointment is to the North Perth Redemptorist monastery.