Perth's Founding Bishop to come Home
Perth's Founding Bishop to come Home
Article and photographs by Fr R. Cross
Perth's first Bishop is coming home, 140 years after he died in France.
Archbishop Hickey and Fr Robert Cross travelled to France and met with relatives of Bishop John Brady in January and gained their permission to bring Bishop Brady's remains home from a French provincial graveyard in the village of Amélie-Les-Bains in Southern France.
Upon locating the Bishop's grave, Archbishop Hickey led three decades of the Rosary; one inGaelic, one in French and one in English. When Lorna and Paddy Lavelle, great-great-grand-niece and her husband saw the grave for the first time, they were quite moved.
Fr Cross will return to Amelie-Les-Bains in March with a fellow archaeologist, historian and medical doctor to exhume the remains of Bishop Brady. However, Fr Cross observes there is no certainty that there will be any human remains after 140 years of burial.
Whatever remains are found will be reinterred later in the year in St Mary's Cathedral Crypt. Then all but one of Perth's previous Bishops and Archbishops will be together.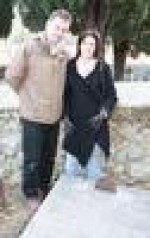 Lorna Lavelle, great, great grand niece of Bishop Brady and her husband Paddy.