Centenary Celebration for Archbishop Clune
Centenary Celebration for Archbishop Clune
Article and photographs by Fr Robert Cross


Archbishop Patrick Clune, the fourth bishop of Perth was consecrated a bishop on March 17, 1911 on the feast of his namesake, St Patrick. The centennial Mass on the vigil of St Patrick, March 16, was officiated by Archbishop Hickey and assisted by Fr Malachy Clune OP, a relative of Archbishop Clune, who had come all the way from San Juan, Puerto Rico for the occasion. Other priests from the archdiocese concelebrated including Fr Joe Carroll from the North Perth Redemptorist Community. Archbishop Clune was a Redemptorist himself.

The homily was preached by Fr Christopher Dowd OP, the official biographer of the Archbishop. Fr Dowd said that a description of the man who was Archbishop Clune could be summed up as being a 'man of faith.'

Among the intimate congregation gathered for the celebration were thirty descendants of the Clune family, proud of the testimony Archbishop Clune left behind.

Among the many achievements of Archbishop Clune, his enduring legacy in Perth will always be the Cavanagh section of St Mary's Cathedral, affectionately referred to as the Clune Cathedral. He poured himself into the building of the Cathedral, even travelling the world to seek the materials so that an exquisite sanctuary and side chapels is the result.

The next time you find yourself visiting St Mary's Cathedral, take the time to reflect upon this enduring legacy in the marble, mosaic and stained glass.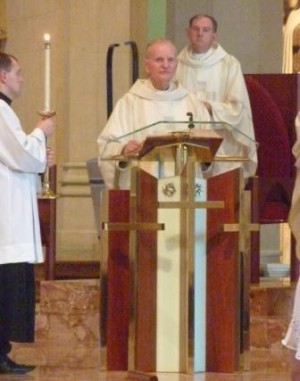 Fr Malachy Clune OP, proclaiming the Gospel during the Mass.
Fr Malachy, a direct descendant of Archbishop Clune is a Dominican
stationed in San Juan, Puerto Rico.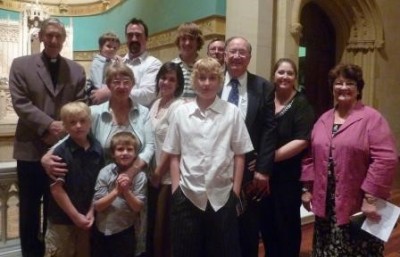 Archbishop Hickey with members of the Clune Clan.
Behind them is the chapel of St Therese, one of the side chapels built by
Archbsihop Clune in the 1930's.