Eureka! Bishop Found In France
Eureka! Bishop Found In France
Article and Photographs by Fr Robert Cross


On March 12, Fr Robert Cross, Fr Jean- Noel Marie, Fr Robert Cross, Dr Michael Shanahan, Jade O'Brien and Odhran O'Brien set out from Perth to Southern France on a unique expedition. The group dubbed the 'Brady Bunch' are seeking to uncover the grave site of Perth's first Bishop and bring back what remains are found if any, to Perth to be reinterred in St Mary's Cathedral.

After a week of painstaking work digging carefully, the efforts of the group were rewarded with the exciting discovery of a zinc lined coffin and what appears to be a full skeleton inside it.

And so, after 140 years Bishop Brady will return home to the diocese he founded. The 'Brady Bunch' have set up a blog www.bishopbrady.com while in France which records in detail the daily work which has led to the discovery. Click the above link and visit the blog website for more details and to follow their daily work.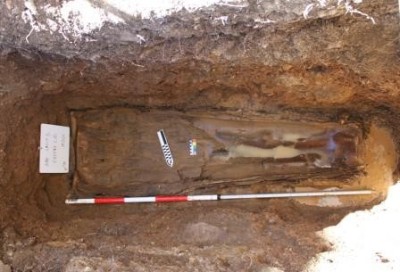 One can see the outline of the top lid of the coffin wherein the remains
of Bishop Brady are buried.