Festival in Perth for Anglican Ordinariate
Festival in Perth for Anglican Ordinariate

Article and photographs by Fr Robert Cross


On a sunny Saturday, 26 February, Holy Family Parish of Como was the venue for a unique one day festival. The festival's purpose organised by Bishop Harry Entwistle was to introduce interested people to the Anglican Ordinariate in Australia. Bishop Entwistle is Bishop of the Western District of the Anglican Catholic Church in Australia.

In 2009, Pope Benedict XVI released a document wherein he established a structure within the Catholic Church called an Ordinariate, similar to the military diocese that exist around the world for Anglicans wishing to enter into full communion with the Catholic Church. Pope Benedict mentions in the document how this structure of the Ordinariate came from petitions from various groups of Anglicans.

The festival at Como included speakers Bishop Peter Elliot from Melbourne, presentation from the perspectives of 'cradle' Catholic and an Anglican convert to the Catholic Church.

At midday, participants were invited to attend an Anglican Rite Mass.

The first Anglican Ordinariate has already been set up in the UK and is called the "Anglican Ordinariate of Our Lady of Walsingham". The formal establishment of an Ordinariate in Australia is planned to take place during the year.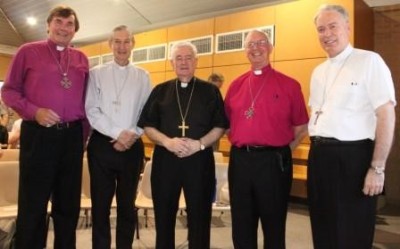 Left to Right: Archbishop John Hepworth, primate of the Traditional Anglican Communion (TAC); Archbishop Hickey;
Bishop Peter Elliott, auxiliary of Melbourne; Bishop Harry Entwistle, Bishop of AngloCatholic Western District Region and Bishop Donald Sproxton