Five More Labourers for the Lord's Vineyard
Five More Labourers for the Lord's Vineyard

Article and photographs by Fr Robert Cross


On 4 March at St Mary's Cathedral, Archbishop Barry Hickey presided over the ordination of five deacons to the Priesthood. Deacons Anibal Leite da Cunha, Emmanuel Dimobi, Cyprian Shikokoti, Daniel Boyd and Quynh Huy Nhat Do were ordained amid a packed Cathedral of family, friends, parishioners and fellow priests.

As the ceremony unfolded it showed the diversity of the Church; of the five new priests, one was a local boy, Daniel Boyd who grew up in Bassendean parish, while the others came from overseas.

During the homily, Archbishop Hickey preached on the Gospel story of the three temptations of Jesus in the desert. He reminded the new priests that the reality of a priest's life will include temptations. He exhorted them to respond to such moments in the same way Jesus did, obedience to the will of the Father.

Ordinations are always an opportunity to remind us that we should give thanks to God for the gift priests have given of their lives for the service of His people.

We pray for our newly ordained that they will always be bearers of the light of Christ.


Archbishop Hickey lays hands on Daniel Boyd during Ordination ceremony.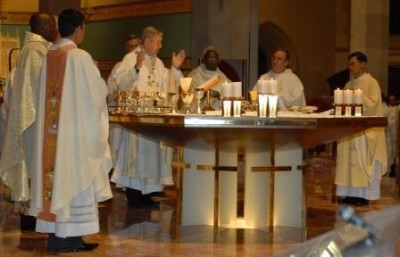 Newly Ordained concelebrate Mass for first time with Archbishop Hickey