Mandorla Art Award Retrospective launched
Article & Photos: B Spinks

Archbishop Barry James Hickey launched the Mandorla Art Award's Retrospective Exhibition Opening on 11 November at The Faith Centre - a collection of the winners of this major religious national art prize dating back 26 years.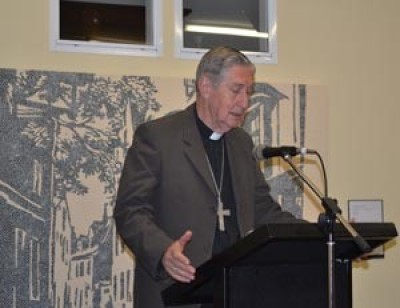 This Retrospective Exhibition is the first event aimed at cultural evangelisation to be held at The Faith Centre since the Centre's Opening by Archbishop Hickey in September.
Featured artists in the The Faith Centre for the Retrospective Exhibition include the Mandorla Art Award 1996 winner John Coburn, 1997 winner Nigel Hewitt and 2000 winner and notable Aboriginal artist, Julie Dowling.
The Highly Commended and People's Choice award winning entry last year is also featured: 'I am your neighbour' by Charles Booth (below) as is Jánis Nedéla's 'The golden rule,' which was Highly Commended in last year's competition.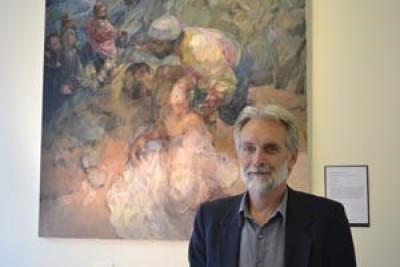 Perth's Anglican Archbishop Roger Herft (pictured below with Archbishop Hickey) launched the 2012 Mandorla Art Award and spoke on its theme for 2012 from Galatians 4:4 'Born of a Woman'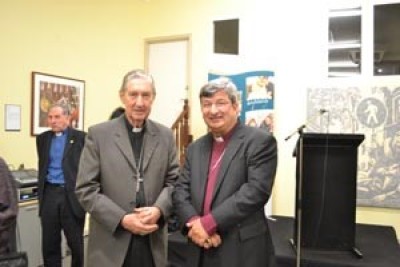 Submissions for next year's Mandorla Art Award are open until 1 June 2012 and there is a $42,000 prize pool up for grabs.
There are two categories: the Mandorla Art Award for artists 18 years and over, and the Mandorla Youth Art Award for artists 16-25.
Moderator of the Uniting Church, Rev Ron Larkin launched the Calendar, which doubles as a catalogue of beautiful winning artwork.
Archbishop Hickey, Archbishop Herft and Rev Ron Larkin are all patrons of the Mandorla Art Award.
Angela McCarthy, Chair of the Mandorla Art Award committee hoped that viewing these contemporary interpretations of ancient biblical themes will enliven our faith, and renew our interest in the Gospel.

Visit The Faith Centre this week to see the exhibition...
The collection of winning entries for the Mandorla Art Award will be housed in The Faith Centre, 450 Hay St, Perth from 12-20 November. It is open to the public for free. For more information, visit www.thefaith.org.au or www.mandoralaart.com Calendars will be on sale in The Faith Centre this week for $20 each.

Photo Gallery from the Retrospective Exhibition Opening...