Mick Malthouse Comes for Morning Tea
Article by: B Spinks, Photos by: Fr R Cross

Top former AFL coach Mick Malthouse visited the Cathedral Presbytery for morning tea with Bishop Don Sproxton, Dean of the Cathedral, Mgr Michael Keating and several others on 4 October.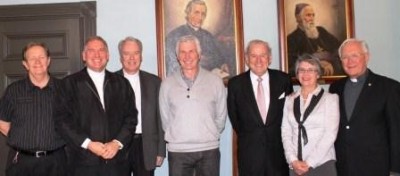 This visit recalls when Mick Malthouse - together with players from the West Coast Eagles whom he was coaching - would make an annual visit to Archbishop Hickey and the Cathedral Presbytery clergy and staff in the early 1990s, Mgr Keating said.

He is in Perth promoting his recent book, "The Ox is Slow but the Earth is Patient". Its title refers to an old Chinese proverb which he was once quoted as saying.

Mick Malthouse was known as coming out with these types of quotes to inspire his players to higher things.