US Sailors Help Paint St Mary's Cathedral Fence
Article by Fr R Cross and Photos by Mr R Hiini of The Record
A contingent of US sailors from the 95,000-tonne aircraft carrier USS Carl Vinson and the guided-missile cruiser USS Bunker Hill volunteered a day to help paint the wrought iron fence of St Mary's Cathedral on Friday 27 April.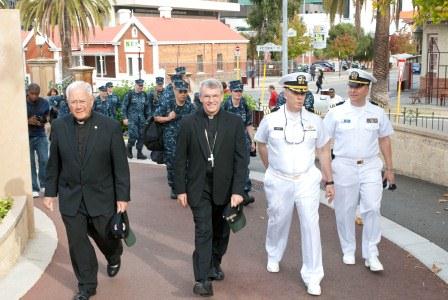 They were welcomed to the Cathedral by Archbishop Costelloe and the Cathedral Dean., Mgr Michael Keating.
A number of volunteers from the Cathedral Parish joined the US sailors in the project.
View more photos from the event in the Photo Gallery.