Archbishop Costelloe Speaks about the Significance of the Pallium
Article and photos by Fr R Cross
On Sunday 8 July, Archbishop Timothy Costelloe SDB, at his first public Mass in St Mary's Cathedral after returning from Rome where he was vested with the Pallium by Pope Benedict XVI, spoke to the people of Perth about the significance of the Pallium.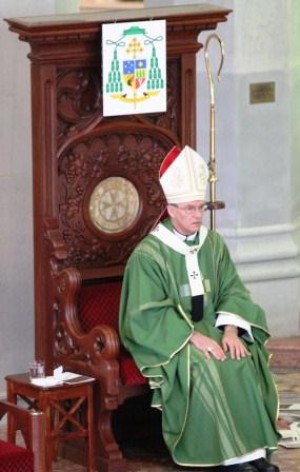 In his homily, His Grace called the people of the Archdiocese to be Good Shepherds to each other and asked for their prayers that he might be the Good Shepherd for them.
Homily of Archbishop Timothy Costelloe for the 14th Sunday of Ordinary Time Year B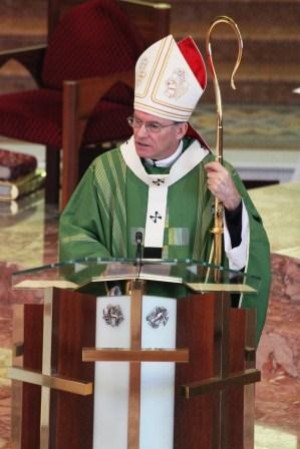 14th Sunday in Ordinary Time
As many of you know I have just returned from Rome where, together with forty-three other newly appointed metropolitan archbishops, I received the Pallium from the Holy Father.

The pallium, which I am wearing today around my neck, is a very simple garment, but it is full of significance. As you can see it is rather like a woolen scarf which has a number of crosses embroidered on it. It is woven from wool which comes from lambs blessed by the Pope earlier in the year on the feast day of Saint Agnes. Once the pallia have been made they are placed on the tomb of Saint Peter on June 28, the eve of the feast of Saints Peter and Paul, and they rest there overnight until the Pope places them on the shoulders of the new archbishops at a special Mass in Saint Peter's Basilica the following morning.

As the Holy Father placed the pallium on my shoulders, and I was able to assure him of the affection and the loyalty and the prayers of the catholic people of our archdiocese and of Western Australia, I found myself reflecting on the mystery of God's call in my own life and of the presence of his grace at work in me. After all it is his grace, and nothing else, that enables any of us to respond to him with fidelity and with love – even if our fidelity is sometimes betrayed by our infidelity and our love is sometimes betrayed by our indifference.

The pallium is given many different meanings but one which makes a lot of sense I think is the idea that it symbolizes the sheep which the Good Shepherd carries on his shoulders. We all know the parable of the lost sheep. Jesus tells us that the Good Shepherd will leave the ninety-nine sheep and go in search of the one that is lost. And when he finds it he places it on his shoulders and carries it home to the fold.

In the context of Jesus' own time and place, this can seem a very foolish thing to do. Once the shepherd goes off in search of the lost sheep, who is left to look after the ninety nine? What is to stop them wandering off in all directions and getting lost themselves? The shepherd runs the risk of finding the one lost sheep but losing all the others in the process. From a common-sense point of view, and from an economic point of view, it would be much better for the shepherd to stay with the ninety-nine and resign himself to the unfortunate loss of the one sheep. But this of course is a parable and Jesus has a very important point to make. When it comes to the relationship between God and his people, between God and us, such things as common sense and economic prudence simply have no place. The only factor to be taken into account is love. Just as the shepherd will go to any lengths to find the lost sheep, even when it seems foolish to do so, so the Lord will never give up on us, even when our lives are more marked by infidelity than by fidelity, by indifference than by love. As the Holy Father said to us in his homily in Saint Peter's just over a week ago, "the Church is not a community of the perfect, but a community of sinners, obliged to recognize their need for God's love, their need to be purified through the cross of Jesus Christ." It is because of God's love for us that he never gives up on us, even when we give up on him.

The Holy Father's reminder that we are not a community of the perfect but a community of sinners is a very important one because it points us in a new direction as we reflect on our own lives as individual Christians, as members of Christian communities, and as members of the world-wide Church. We see within us and around us the presence of sinfulness, frailty and weakness. We also of course see the presence of great courage, holiness and generosity. But as Saint Paul reminds us in today's second reading, it is in the midst of our failure, our weakness and yes, even our sinfulness, that the Lord says to us, as he said to Paul himself, "my grace is enough for you, my power is at its best in weakness."

This was the case for all the great men and women of our faith. It was when Saint Peter was being led to his death and was at his most vulnerable that he was also at his strongest. It was when Mary MacKillop was most misunderstood and attacked that she was most open to God's presence in her life. It was when Mary, the mother of the Lord, stood helpless at the foot of the cross that she was able to accept the call to be the mother of the Church. It is the same for us. It is when we are most aware of our limitations, overwhelmed by the challenges we face, or overcome by our failures, that we are most open to the gift of God's healing and strengthening and empowering grace. "My grace is enough for you," says the Lord to each one of us this morning, "for my power is at its best in weakness."

The pallium I am wearing today has three pins inserted into it. Originally they were meant for a practical purpose – to keep the pallium in place. Today they symbolize the three nails by which Jesus was pinned to the cross. He was at his weakest and most helpless – and yet in him and through him God's saving and healing grace was and is offered to us all. Those nails – these pins – remind me and all of us that it is only when we are ready to give ourselves as a gift to God and to each other in love, even at the inevitable cost of suffering, that new life will erupt into our world. This is the mystery of death and resurrection and it is the very heart of our faith.

Every time you see me wearing the pallium, may it be a reminder to you that all of us are called to be Good Shepherds to each other, bearing each other's burdens with courage and love, even when it brings us suffering. And please pray for me, that each time I put on the pallium I might be strengthened in my desire to be the shepherd of God's Church that he is calling me to be.