Vincentian Provincial Visits Archbishop
Article and Photo by Fr R Cross
On Tuesday 29 May, the Provincial of the Vincentian Congregation, Fr George Arackal VC, paid a courtesy visit to Archbishop Timothy Costelloe SDB.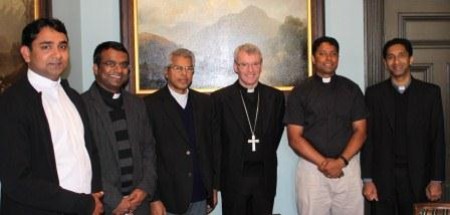 Left (L to R): Fr Rojan George VC, Fr Sabu Jacob VC, Fr George Arackal VC (Provincial), Archbishop Costelloe SDB, Fr Varghese Parackal VC and Fr Thomas Mankuthel.
The Vincentian priests minister in hospital chaplaincy and also in the parishes of Maddington and Shenton Park in the Archdiocese of Perth.