Perth United for Sports Celebration
Churches come together to celebrate Sport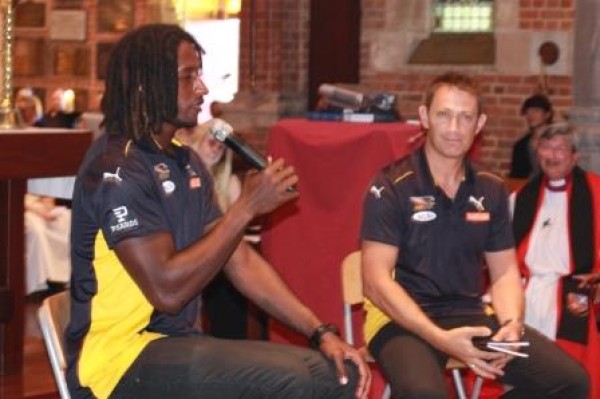 Nic Naitanui (L) being interviewed by Eagles' chaplain, Paul Morrison (R) © Jill Birt
Crowds turned up at St George's Anglican Cathedral on Sunday 6th April to give thanks to God for the gift of sport. The event, jointly organised by Christians Together In Sport and Sports Chaplaincy Australia, was Perth's first-ever ecumenical celebration of sport.
Scores of teachers and students from high schools across Perth dressed in their team kit were in attendance, many of them bringing school guernseys, trophies and sporting items with them which were blessed during the service by Catholic Archbishop, Timothy Costelloe and Anglican Archbishop, Roger Herft. Also present were leaders of principal churches across WA: Wayne Pittaway (Salvation Army), Tania Watson (Churches of Christ), Karen Wilson (Riverview) and Mark Wilson (Baptist).
Alongside rousing hymns such as Amazing Grace and Be Thou my vision there were modern songs such as Shine, Jesus, Shine and You Raise Me Up, made famous by US singer Josh Grogan and Irish boyband Westlife.
Cricketing legend Justin Langer read from the Gospel of Matthew (5:1-16) which highlighted the truths that we are "blessed… when people insult you, persecute you and falsely say all kinds of evil against you because of me… You are the salt of the earth… You are the light of the world."
Some of the highlights of the service included a testimony given by dragracer Pieter De Wit in which he spoke of an horrendous accident he endured in 2013 at well over 300km per hour. "I thought I was lucky to come out alive," he said at first. "I later came to see that I was actually blessed to be alive. I did not know Jesus before the accident. It was through this tragedy that I came to know Him and to be saved."
West Coast Eagles' ruckman, Nic Naitanui, gave a moving interview about how "every Wednesday and Friday night there was a prayer group at our house. People would go on singing God's praises into the early hours of the morning. It can be hard to sleep with all that singing going on, especially before a big game the next day. Fortunately, I have the blessing of dreadlocks to stick into my ears to help me sleep!" He spoke of how "praying every day" is a key part of his daily regime and how his faith helps him to face some of the strong opponents he has to meet with on the pitch". "Fear is gone," he said, "when I know that God's on my side."
He went on to speak about the new venture that has begun within his "very understanding" club. A number of players are meeting to pray together before each game and to entrust themselves and all they do into God's hands.
Following the service, a free barbeque was on offer on the cathedral terrace where young and old were able to meet and share their own legendary sporting stories.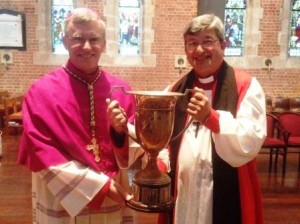 Archbishop Costelloe (L) and Archbishop Herft(R) hold the newly blessed Archbishops'Cup © Kyle March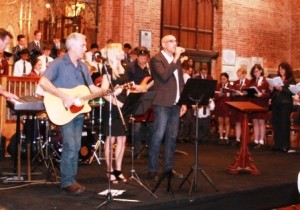 Choirs from Hale School and St Mary's College lead the worship alongside Mt Pleasant Baptist Church © Jill Birt