A Surreal Experience!
Article & Photo by Bridget Spinks
Bishop Brady's great great grandniece Lorna Lavelle described the experience of being in Perth for the Reinterment Ceremony, and being able to walk in Bishop Brady's footsteps here as "surreal".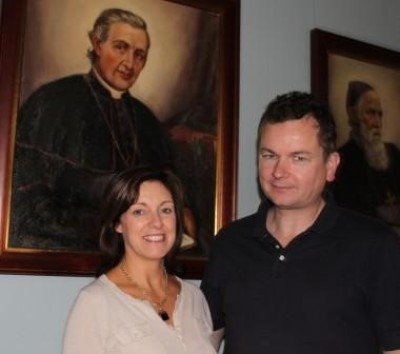 Lorna and her husband Patrick flew to Perth from Ireland especially for the occasion as did Lorna's brother Derek Hughes, who flew over to Perth from Sydney.

Up until last year Lorna knew that she was related to the first Bishop of Perth and thought he was buried in Perth.
But when she asked her eldest son, Eoin, who came to Perth last year on a three-month working holiday - to look around and see how he was remembered here at the Cathedral, he could only find a plaque at St John's Pro-Cathedral in Victoria Avenue.

This discovery, she said, led to her contact the Archdiocese's archivist Sr Frances Stibi who advised her that his remains were buried in Amelie-les-Bains.
This came as a surprise to Lorna because the family had bought a holiday house in the south of France in 2005 not knowing that just a 20-minute drive away was the resting place of her great great grand uncle Bishop Brady.

Just before Christmas last year archaeologist and Perth priest Fr Robert Cross contacted the family seeking their permission to exhume the first prelate of Perth and reinter him here in St Mary's Cathedral crypt.

This was duly granted and in January Lorna and Patrick Lavelle met Archbishop Hickey and Fr Cross in Amelie-les-Bains where Lorna signed more documents granting permission to exhume the remains of Bishop Brady.

Lorna said she was here in Perth representing the whole family especially various members who could not make it including Lorna and Derek's late mother, Anna May Hughes (née Brady), who passed away 13 years ago; their uncle, Fr Eddie Brady, 83, a missionary 'White Father' in Tanzania and their eldest brother, Eammon Hughes, who has been researching - and is well versed in - the family's genealogy."It's significant for the Church here but it's also significant for the Brady family," she said.

Lorna said Fr Eddie Brady has followed in Bishop Brady's missionary footsteps ever since he found his vocation to the priesthood late in life.
"We all probably feel he is like Bishop Brady; he's ascetic," she said. "He thrives on austerity."