National Day of Mourning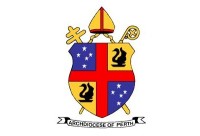 FOR IMMEDIATE RELEASE - Wednesday 06 August 2014
CATHEDRAL'S COMMEMORATION ON MH17 NATIONAL DAY OF MOURNING
St Mary's Cathedral, the mother church of Perth's Catholic community, will tomorrow (Thursday 7 August) honour the victims of Malaysia Airlines Flight MH17 during what Prime Minster Tony Abbott has recently declared as a National Day of Mourning.
St Mary's Cathedral has arranged for a single bell to toll every ninety seconds on 41 occasions between 08:30am and 09:30am as people enter into the city for work. This will also invite the people of Perth to be united in reflective mourning with the National Memorial Service taking place at St Patrick's Cathedral, Melbourne at the exact same time. Each toll will be for:
• the 29 Australian citizens and nine permanent residents on board,
• the memory of the remaining passengers, once in memory of the crew, and once to remember in prayer those left behind to mourn.
The bell will toll again 41 times every thirty seconds between 12:35pm and 12:55pm as people take time out of work for their lunch.
People of any faith and of none are invited to come to St Mary's Cathedral to reflect on the aftermath of this tragedy and, if desired, to spend a moment in gratitude for the gift of their own life, their family and their friendships. This can be done quietly and privately either in the main area of the cathedral or in the chapel presently dedicated to those who have lost their lives in both MH17 and those still missing from flight MH370.
On each occasion that the bell is tolled in the morning and at lunchtime, the name of one of Australia's MH17 dead will be read out in the cathedral as an invitation to pray specifically for that particular person.
The cathedral will join other government and public buildings here in Perth and further afield by flying its flag at half-mast as the national service is broadcast live.

Speaking on the tragedy, the dean of the cathedral, Monsignor Michael Keating, said: "With such a terrible loss of lives, we want to continue to provide a dedicated space and an opportunity for people to mourn as they best see fit. Grieving any loss is a healthy and necessary process for all our lives."

- ENDS –

Further enquiries: James Parker, Perth Archdiocese Communications and Media Office
Mobile: 0477 365618, Email: communications@perthcatholic.org.au