Three Priests Ordained for Perth
Article by Fr R Cross.
Photos courtesy of The Record

On Friday 12 August, in a packed Cathedral and with family and friends in attendance from interstate and overseas, three men were Ordained to the Priesthood by Archbishop Barry James Hickey.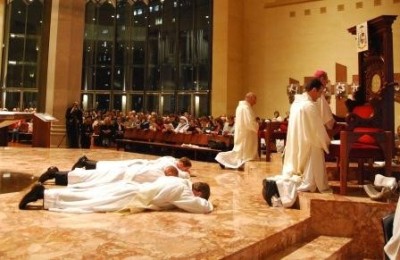 In his homily, the Archbishop said the newly ordained priests will be entering a world that is very different to that in which he was ordained 53 years ago, a world in which family life and children were under great stress.

All three priests will soon take up positions in different parishes of the Archdiocese as assistant priests. Fr Christian Webb has been appointed to the Parish of Ballajura, Fr Mark Payton to the Parish of Bateman and Fr Thomas Zureich to the Parish of Clarkson.

Photo Gallery: Three Priests Ordained for Perth