Jane Pilkington says goodbye after 19 years
Archbishops' Secretary says goodbye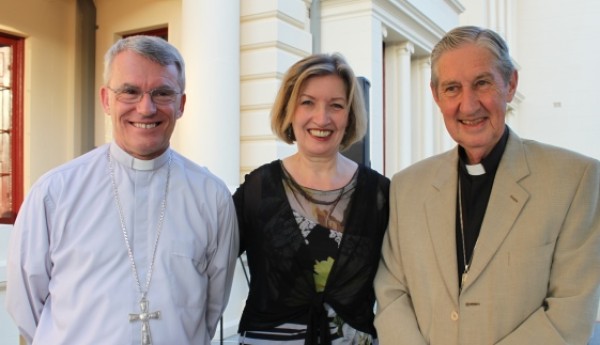 After 19 years of service to two Archbishops, Jane Pilkington waves goodbye to the important role she has played as Archbishop's Secretary and embraces retirement to a flurry of gratitude and honours.
Jane took up her role as Secretary to Archbishop Hickey in November 1994 when then-Archbishop Barry Hickey was away at meetings on the east coast. For nearly two decades she has graciously and consistently served the Church in Perth overseeing the finer details of numerous aspects of two Archbishops' lives.
"I've been very committed to the job and I'll miss working in a place where my heart and soul is, working with and alongside such special people. It has certainly been a tremendous privilege. I am sad to be leaving but am looking forward to discovering what life has in store," said Jane.
Of the many events that have transpired across the Archdiocese of Perth in the past twenty years, she nominated the refurbishment and completion of St Mary's Cathedral as the most significant change to which she had been a first-hand witness.
Jane said that both Archbishop Hickey and Archbishop Costelloe have been delightful to work with, each bringing their own gifts and talents to the Archdiocese. She is now looking forward to spending more time with her husband, children and grandchildren, as well as further pursuit of her hobbies which include playing both piano and guitar, stamp collecting, sewing and reading.
At a farewell celebration held in the grounds of the cathedral presbytery, Archbishop Costelloe presented Jane with the Papal Honour of Pro Ecclesia et Pontifice. She said, "It was a complete surprise. I was overwhelmed. I do feel that this Honour embraces my family who have supported me, those I have worked alongside in the Church, all those with whom I have come into contact along the way and those who have allowed me to be who I am."
Jane's role as Secretary has now been replaced by Jennifer Lazberger who is Archbishop Costelloe's Executive Assistant.