2014 celebrations of St Patrick
St Patrick's Day Mass 2014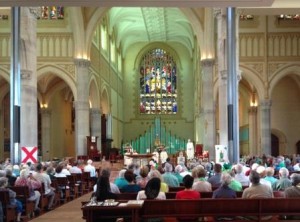 Green light floods the ceiling of the Sanctuary of St Mary's Cathedral on the Feast of St Patrick
Members and friends of the Irish community in Perth gathered together in St Mary's Cathedral to remember and celebrate the life of St Patrick.
There was standing room only in a packed cathedral as a procession of banners affiliated to the many Irish groups and communities in Perth were paraded in, accompanied by music from Comhaltas Ceoltoiri Eireann. Liturgical dance from Western Australia's Academy of Irish Dancing brought the spirit of the Emerald Isle into the cathedral with great panache.
Rousing hymns such as Faith of our Fathers, Soul of my Saviour and Hail, glorious St Patrick lifted the cathedral roof which was awash with Ireland's traditional colours of green, white and gold.
In his homily, Fr Laurence Murphy SDS spoke of how as a Dubliner he was unquestionably Irish through and through, even after 45 years in Australia. He went to say, however, that it was the same Gospel message of Jesus Christ that St Patrick had brought to Ireland that had changed his life and was on offer to change each one of our lives today. "I am here in this cathedral today to celebrate St Patrick," he said, "but moreso to celebrate and worship the one that St Patrick gave his life to – Christ himself."
Among special guests were Minister Alan Kelly TD, Ireland's Minister for Public and Commuter Transport, Ms Sarah Manga, Deputy Head of Mission from the Embassy of Ireland in Canberra, Mr Marty Kavanagh, Honorary Consul of Ireland to Western Australia, and Mr Larry Kelly, Private Secretary to the Minister for Public and Commuter Transport.
After Communion, Minister Alan Kelly read the President of Ireland's St Patrick's Day Message.
Among the religious at the Mass were: the Christian Brothers, the Sisters of St John of God, the Sisters of Mercy, Dominican Sisters, Presentation Sisters and the Loreto Sisters.
Some of Perth's Irish groups participating in the Mass were: the Irish Club of WA, the Celtic Club, the Irish Theatre Players, the Gaelic Athletic Association of WA, the Perth Rose of Tralee, the Australian-Irish Heritage Association, Shamrock Rovers FC, Imokilly Hurling Club WA, the Irish Golf Club, Irish Expats Golden Oldies Rugby Union Club, the Claddagh Association of WA, Comhaltas Ceoltoiri Eireann and Irish Families of Perth.