Fr Crispin Witika ordained priest
Time and distance no hurdle to Fr Crispin Witika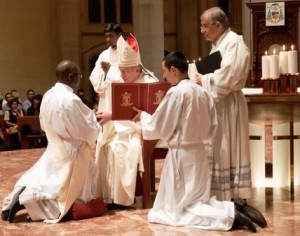 Before a sizeable and enthusiastic congregation of friends and family at St Mary's Cathedral in Perth, Zambian-born Deacon Crispin Chanda Witika was ordained a priest on March 21st by Archbishop Timothy Costelloe SDB. Moments after he was ordained priest, the front-row pew at St Mary's Cathedral erupted in joyous song and ululating voices. Zambian sounds of spontaneous and heartfelt celebration peppered the priest's ordination Mass, largely thanks to his three nieces and a nephew who had travelled from Zambia to share in the occasion.
Fr Witika said that without Archbishop Timothy Costelloe's help, their joyous presence might never have eventuated. He said it was Archbishop Costelloe's letter to the Australian High Commission in Pretoria, the nearest commission to Zambia, that secured their last minute visas.
"When you are in, I wouldn't say a 'foreign country' because I'm part of the congregation here, it makes a difference when your own blood, your brothers and sisters, are here with you. It gives you great joy and happiness," Fr Witika said. Their presence, great in and of itself, was like having his late father and ill mother present for the special event, the priest said.
Fr Witika arrived in Australia aged 43 from Italy in 2008, beginning his seminary studies almost immediately. As a younger man, he had spent five years as an electrician before feeling called to the life of a lay missionary in the Neocatechumenal Way. He was first sent to Uganda were he missioned for 13 years, followed by short stints in numerous other African countries. He then spent three years missioning in Ireland before another three-year stint in Italy. It was during a 2007 gathering with the then-Pope Benedict XVI in Loreto that he felt called to become a priest.
Fr Witika referenced Archbishop Costelloe's homily when asked what being a priest meant to him. "To be a priest is not something that belongs to us. It is something we are given by God because the High Priest is Jesus Christ himself," Fr Witika said. "We are participants in the priesthood of Jesus Christ and this gives me a lot of respect for this ministry because I know that I don't merit it but that God wills that I participate in this ministry, and that I have to give myself completely to the people.
"I heard some words from the Pope saying be faithful to the Church and the Church will be faithful to you. I have seen how faithful the Church has been to me in spite of what I am. God has been very faithful to me."