Volunteers an indispensable element of The Shopfront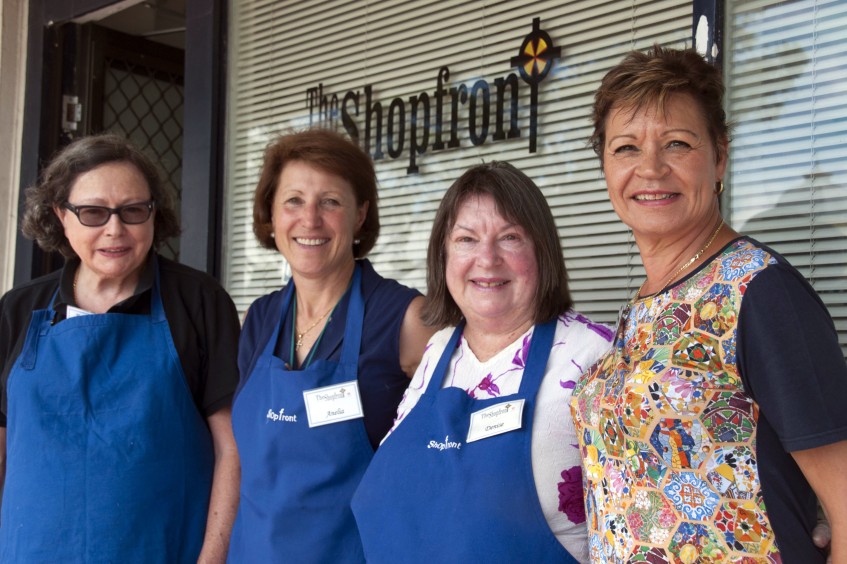 The backbone of The Shopfront – from left to right, volunteers Noreen Moncrieff, Anelia Irdi, Denise Lavey and Julie Taylor are among many volunteers who provide an invaluable service at The Shopfront. Photo: Marco Ceccarelli
By Marco Ceccarelli
As one walks through the premises of The Shopfront in Maylands during a busy weekday, it is immediately evident that the volunteers are the very heartbeat that pumps life through the Archdiocesan LifeLink organisation.
As visitors trickle in through the front door, they are warmly greeted by a volunteer and offered something to eat, drink, or are simply invited to enjoy the company of those present.
Commenting on the outstanding work undertaken by those who freely offer a helping hand, The Shopfront Director Brian Tierney explained that the work of the volunteers reflects the mission of his agency, which is "to respect the equal dignity of each person who comes as a visitor".
"This fundamental principle of Catholic Social Justice teaching guides all the work of the agency: the way in which visitors are greeted and the interaction between volunteers and visitors," he said.
Another important aspect of The Shopfront outlined by Mr Tierney, is the recognition that people who come as visitors have something to give as well as to receive. Their stories often demonstrate great courage and resilience as well as good humour in the face of hardship.
Essentially, the work of The Shopfront depends on the generosity of the volunteers and the wonderful support received from a number of Catholic colleges, parishes, businesses and individuals.
One of the volunteers who has been at The Shopfront for more than a decade is Anelia Irdi.
Driven by a desire to help the marginalised in society, and inspired by ex-director of The Shopfront, Sister Mary Claude McNamara, Anelia joined as a casual volunteer in 2004 and has since never looked back.
"My experience here has been overwhelmingly positive," Anelia said, taking a break from tending to a remembrance wall for those who have been through The Shopfront and have passed away.
"When I am here, I feel that I receive something. For those few hours, you're totally divorced from your own world and you're just focused on this part of life; your cares and worries just fade into insignificance. I've made some great friends among both the volunteers and Shopfront visitors.
"The highlight for me is doing something useful without any thought of being thanked. There are no expectations of anything apart from just giving. You don't just give, you receive… it's hard to actually quantify or elucidate that... you just feel that you've been useful," she added.
Anelia also briefly spoke about her faith journey and the fundamental role it has played in her dedicated volunteer work.
"My role here and my Catholic faith are intimately intertwined. I feel that I am not just paying lip service to my faith but am acting on it as well. We're all called to different roles. I have children and an elderly mother; those are also my roles but, for me, it is about seeing the face of Christ in everybody, whether they need a bath, are hungry, or just want to talk. You may be the only person that is going to smile at them on that day."
On the receiving end of many of these smiles are people like 52-year-old John, who currently relies on The Shopfront for food in a moment of unemployment and ill health.
"I am currently on a welfare payment which is barely enough to pay my rent," John said, reflecting on the difficult circumstances which have made his life somewhat unstable at present.
"Then I have telephone, power and gas bills to think about. I also have a phone and internet (which I have to have). On top of all this, I have problems with my knees and tendons, which heavily burdens me but is not severe enough to make me eligible for a support pension.
"The Shopfront helps me with my food. I generally work around what I can get from here. I believe it is very important to have organisations such as The Shopfront; in fact, I'd even put it into the 'critical' category if I may. There are a lot of people like myself and some worse off than me who rely on the support that an organisation like this can give us."
As per its mandate, the role and function of The Shopfront is to relieve poverty and suffering in an environment that offers practical assistance, fellowship and hospitality.
The LifeLink-funded organisation works hand in hand with other local welfare and government community service organisations to provide the best possible form of immediate help to those in need.
The Shopfront may help with emergency accommodation, food for families and transport vouchers or phone cards, and can also provide shower and clothes-washing facilities for the homeless.
The Shopfront was founded in 2001 by Emeritus Archbishop Hickey, supported by Julie Fuge, in recognition of the growing needs of the most vulnerable living in the inner city.
LifeLink agencies collectively touch the lives of more than 31,000 people in need each year through the provision of accommodation, food, clothing, financial assistance with electricity and gas accounts, and the protection of women and children escaping domestic violence and abuse.
In this year's Christmas LifeLink Appeal, the Archbishop is setting a target of $700,000 so as to help fund agencies in being able to meet the needs of those who knock on the doors of Archdiocesan agencies.
To donate to LifeLink, go to www.lifelink.com.au.