The chance to drive V8 Super cars ultimate goal for Callan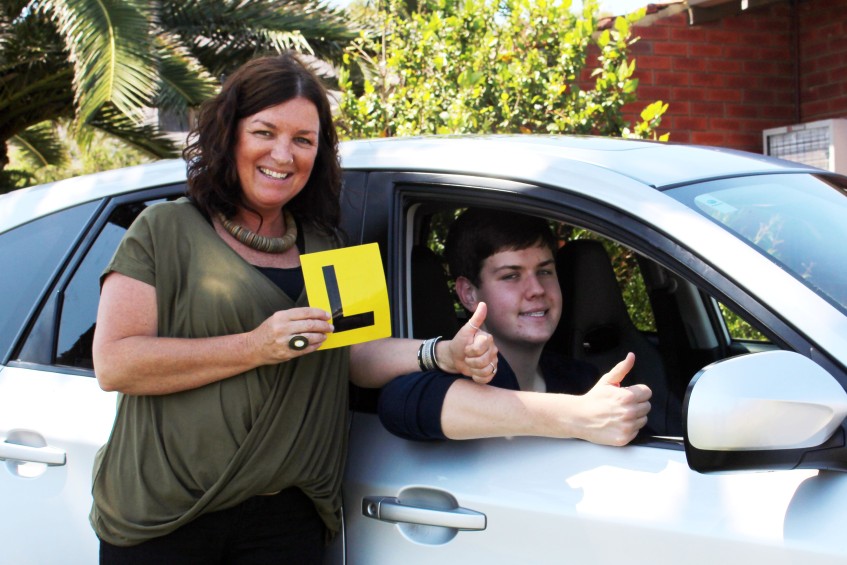 Time to finally hit the road: A newbie L plater, Callan is refining his driving skills with the help of Identitywa Family Support worker, Andrea. Callan hopes to one day drive V8 Super cars. Photo: Supplied
The feeling of being safe and secure has provided the confidence 18-year-old Callan needed to take on new life challenges, including his dream of racing a V8 Super car!
Supported by Identitywa Family Support worker Andrea, Callan travels on the bus or train to his weekly commitments which include classes at Tafe, his sessions playing guitar in a music group and his regular gym workouts.
Callan's parents believe that Andrea has been central to their son's positive development over the past 12 months since he left secondary school.
"The difference in Callan since Andrea and Identitywa came into our lives has been life changing for our family," said Callan's Mum, Lisa.
"In the past, Callan was often concerned about what he felt he could do. Andrea has been fantastic in understanding his needs and identifying the best way to manage situations when they may not go as planned."
Callan agrees that having Andrea's support has been very important in assisting him to develop greater confidence.
"Andrea makes me feel safe and this helps me to be more independent," said Callan.
The opportunity to be part of the family (including the dog!) has also been a very positive experience for Andrea.
"I am so happy to be able to assist them in making the most of all opportunities for Callan," said Andrea. "He is such a delight. He really lifts my spirits whenever I am with him."
Callan is passionate about cars, so the whole family was thrilled when he recently passed his written driving test with flying colours. Now on his 'Ls', he is taking advantage of the new opportunity to get behind the wheel and is driving as much as he can.
"I want to drive V8 Super cars one day," said Callan. "It's my ultimate goal."
"Identitywa has really been wonderful. I had tried to find people to support Callan in the past but without success. Identitywa took this pressure away from us to find the right person," explains Lisa.
"We are so glad they found Andrea. She is absolutely the best person for Callan and our family."
Identitywa is one of Western Australia's leading agencies supporting people with a disability and their families. The organisation provides a number of different services to children and adults throughout the Perth metropolitan area.

LifeLink agencies collectively touch the lives of more than 34,000 people in need each year through the provision of accommodation, food, clothing, financial assistance with electricity and gas accounts, and the protection of women and children escaping domestic violence and abuse.
In this year's Christmas LifeLink Appeal, the Archbishop is setting a target of $700,000 so as to help fund agencies in being able to meet the needs of those who knock on the doors of Archdiocesan agencies.
The 2015 LifeLink Christmas Appeal was officially launched in parishes on 14 and 15 November.
To donate to LifeLink, go to www.lifelink.com.au.