Notre Dame graduates called to transform communities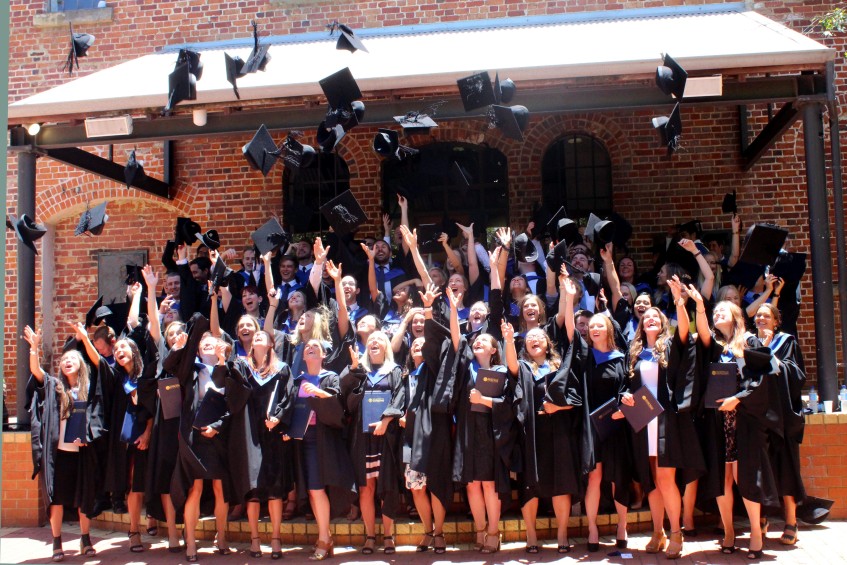 December Graduation 1: Graduates celebrate their successes at Notre Dame. Photos: Supplied
More than 1,000 graduates of The University of Notre Dame Australia were last week called to display mercy, large-heartedness, generosity and faith as they farewelled the Fremantle Campus and commenced their journey as instruments of change in their communities.
Benefactors, donors, academic and departmental staff, friends, family and other members of the Notre Dame community joined to celebrate the achievements of 1,062 graduates from the Fremantle Campus at the Graduation Mass and Ceremonies from 8 to 10 December.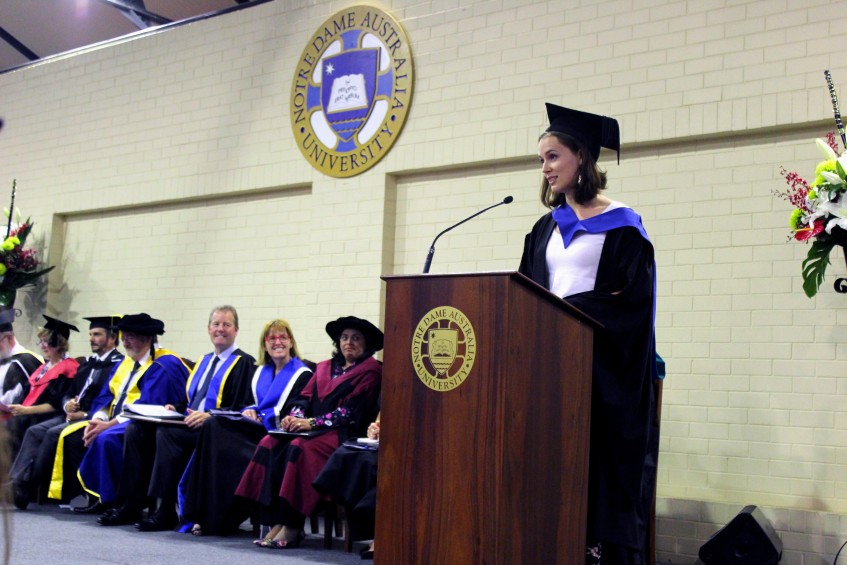 Hannah Elliott delivers the Farewell Address to the graduates from the Schools of Business, Health Sciences, Law and Philosophy & Theology. Photo: Supplied
The highest achieving graduates delivered the Farewell Addresses at each of the four ceremonies: Robin Coopes-Williams (Bachelor of Counselling); Shimona Driver (Bachelor of Education (Primary)/Bachelor of Behavioural Science); Tracey Sanders (Bachelor of Nursing); and Hannah Elliott (Bachelor of Biomedical Science).
It was also a momentous occasion for five graduates who were conferred higher degrees by research: Dr Jo Connaughton (Doctor of Physiotherapy Research); Dr Judith Wilson (Doctor of Philosophy, Physiotherapy); Dr Amanda McCubbin (Doctor of Education); Dr Lawrence Pang (Doctor of Philosophy, Philosophy & Theology); and Dr Jane Power (Doctor of Philosophy, Law).
Celebrations commenced with the annual Graduation Mass on Tuesday, 8 December at St Mary's Cathedral. More than 1,100 guests attended the special ceremony, where graduates were presented with their graduation crosses, a traditional icon of the University, and a commemorative symbol of a student's time at Notre Dame.
During his homily for the occasion, Perth Archbishop Timothy Costelloe SDB said the event was a significant one, as graduation celebrations coincided with the Feast of the Immaculate Conception of Mary, after whom the University is named.
The Archbishop said the Feast of the Immaculate Conception of Mary and the beginning of the Holy Year of Mercy spoke to graduates about what life and human flourishing are all about.
"As you move from university life to a different and, in many respects, a fuller engagement with the society in which we live, this question of human flourishing, both for you and for all those whose lives will be impacted, and hopefully enriched, by you is vitally important," the Archbishop said.
"What kind of mark will you make on others? What impact will you make on our society?
"What kind of person will you turn out to be? What kind of person do you want to be?
"Mercy, large-heartedness, generosity and faith: these are the themes which run through tonight's celebration here in our Cathedral. My prayer for you all is that your lives and your futures are deeply marked by these qualities."
The university will have held a total of eight graduation ceremonies and farewell more than 1,200 students nationally before the end of 2015 – four in December and one in July on the Fremantle Campus; one in Broome; and two ceremonies in Sydney later this month.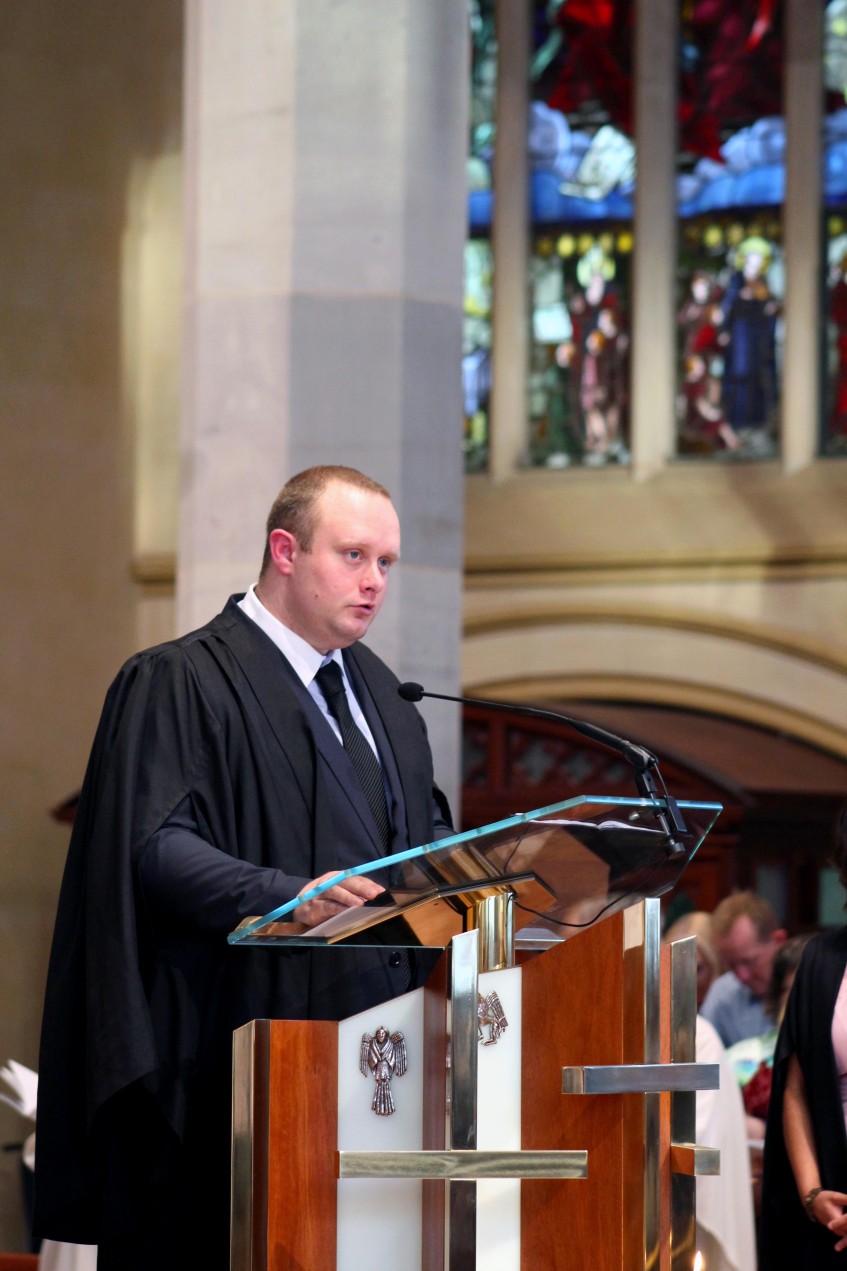 Bachelor of Theology graduate, Matthew Tloczek, reads the Prayers of the Faithful at the Graduation Mass. Photo: Supplied
Hundreds more from the Sydney Campus will celebrate their graduation at the Sydney Town Hall in April 2016.
"We believe that the best education we can provide any person is one which encompasses specialised expertise, with the capacity to reflect on broader perspectives, including the ethical and social dimensions of their work, research, decision-making and promoting the common good," Professor Celia Hammond, Notre Dame's Vice Chancellor, said in her address to graduates.
"We hope and pray that as you go out, today confident in your unique gifts and talents, but with an awareness of your own fragility and humanity and with a deeper understanding of your interconnectedness with all human people, that you let God's mercy into your heart and let it shine through in your words and actions.
"Our hopes and prayers are that you will embrace life, truly live, truly love, laugh often, and, above all, let God's light shine through you."
Please visit nd.edu.au/news/media-releases/2015/graduation for photo galleries, videos and links to presentations delivered at Notre Dame's Graduation Ceremonies nationally.