Fr Gatt Retirement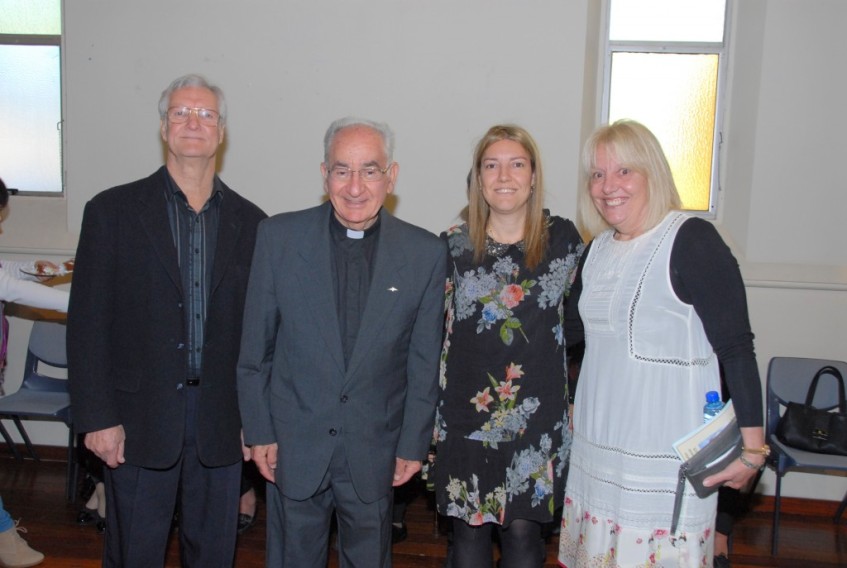 Since arriving at St Kieran's Parish in 2000, Fr Michael, who retired on 28 June, has made an indelible mark on the community, from overseeing building and practical renovations, as well as the parish's centenary celebrations in 2014. PHOTO: Supplied
By Mark Reidy
Anyone who has experienced the passionate energy of Father Michael Gatt would be hesitant to associate him with the word "retiring", but that is exactly what occurred at St Kieran's Parish, Osborne Park, last weekend, 28 June.
A packed congregation, including friends and past parishioners, applauded the Maltese-born priest who has faithfully served the Church for more than 47 years, but their response to his retirement was tinged with a sense of sadness, according to long-time friend, Bob Fimmel.
"Fr Michael will clearly be remembered for getting things done," he said, "as a man of action and a man of God".
Since arriving at St Kieran's Parish in 2000, Fr Michael has made an indelible mark on the community, from overseeing building and practical renovations, as well as the parish's centenary celebrations in 2014.
But perhaps what he will be best remembered for is the spiritual influence he has delivered through the large number of Sacraments administered over the past 15 years, and the Christmas time phone-counselling service he has provided for the lonely and those in distress.
The appreciation and recognition of this effervescent priest was expressed through a number of parishioners who thanked Fr Michael during his farewell celebrations, including Mrs Elizabeth Schelfhout, Assistant Principal of St Kieran's Primary School; ex- Mayor of Stirling, Mr Tony Vallelonga; and Parish Council representative, Mr Dan Hill.
Mr Hill read excerpts of letters of appreciation from Geraldton Bishop, Justin Bianchini, the High Commissioner of Malta and Archbishop Timothy Costelloe.
"It would be hard to estimate how many lives have been touched, how many people have been reconciled to God, how many have found strength in times of difficulty or crisis, how many have grown closer to the Lord, all because of your ministry and your fidelity to your priesthood," Archbishop Costelloe wrote.
Fr Michael has been humbled by the response of past and current parishioners since announcing his retirement.
"I have received over 60 cards so far with people expressing their gratitude," he said in a recent interview with the Perth Archdiocese Communication and Media Office.
"I did not expect such wonderful appreciation."
Fr Michael was born in Malta on 13 February, the sixth of nine children to Philip and Michelina Gatt.
Two of his four sisters would become nuns, including Carmen who would spend 45 years serving in Pakistan and become known as the "Sister Teresa of Pakistan".
Before entering the priesthood, Fr Michael served for two years in the Armoury with the Royal Air Force in Malta.
He then completed his studies at the Maltese General Seminary and was ordained by the Archbishop of Malta, His Grace, Sir Michael Gonzi, on 30 March 1968.
Fr Michael arrived in Western Australia in 1971 and, in the same year, became the Maltese Migrant Chaplain as well as the Hollywood Repatriation Hospital Chaplain (until 1982).
In 1984, he joined the Royal Australian Air Force as Chaplain at Pearce Base.
From 1974 until his placement at St Kieran's, Fr Michael spent time as a parish priest in Swanbourne (1974–78), Victoria Park (1979–1982), Moora (1982–1984), Gingin–Chittering (1984-1990) and Manning (1990–2000), leaving his unique touch on each community with his spirit of joy and infectious humour.
Since arriving at St Kieran's, Fr Michael has channelled much of his time and energy into ensuring as many children as possible, from both the local Catholic schools and Catholics attending state schools, were provided with the opportunity to receive the Sacraments of the Church.
He has made every effort to nurture close relationships with the schools in an effort to welcome as many families as possible into the Church.
"If we lose our schoolchildren, we don't have much left; we have to build on them," he said, in a 2008 interview with The Record.
"They need all the encouragement they can get. Parish life is enhanced with a school because without it, as a priest, you don't have much to work with."
Under Fr Michael's watch, the Sacramental program within the parish has continued to blossom, with 300 receiving Reconciliation, Communion and Confirmation in 2014.
Since arriving in 2000, there have also been 966 Baptisms.
But it is not only babies he has received into the Church.
Fr Michael recalls his time at the Manning parish when he instructed, baptised, received into the Church and confirmed some 60 young people, mostly Asian students from Curtin University.
Through these friendships, he has established a pastoral relationship with families in Indonesia and, since 1997, has visited there on six occasions.
Ever the opportunist to open the doors of God's love as often and to as many people as possible, Fr Michael recalls the nervousness he experienced when delivering a speech to the, mostly Muslim, crowd of 500 at the wedding of a couple he had married.
"Having to give a reception speech about Christian marriage in a Muslim country did make me nervy," he shared with a laugh, "but, at the end, they responded with applause".
Fr Michael has always been passionate in his desire to prepare young couples for marriage in the Church and is especially excited at the opportunity to interact with those who do not practise their faith, seeing it as an opportunity to welcome them back to the Church.
"Marrying in the Church gives them that call to return to the Sacraments… and it is at these times when the parish community must embrace them," he said.
"Marriage in a church leads to Baptism, Catholic education and a litany of positive follows."
Fr Michael's affable nature will no doubt be missed now that he has retired from his ministry as a parish priest, but his innate exuberance will ensure that he will continue to deliver God's message of hope and love to all he meets.
He has already accepted a three-month placement at another parish in the near future and knows there will be more to come.
"I have had a happy, happy, happy life and there have been many beautiful stories," he bursts out excitedly.
"All I have ever done is take the opportunities presented to me and let God work out the rest for Himself."
It is this attitude that will ensure that the "retirement" of this dynamic priest will be far from a restful one.