Intergenerational partnership creating friendships at AGH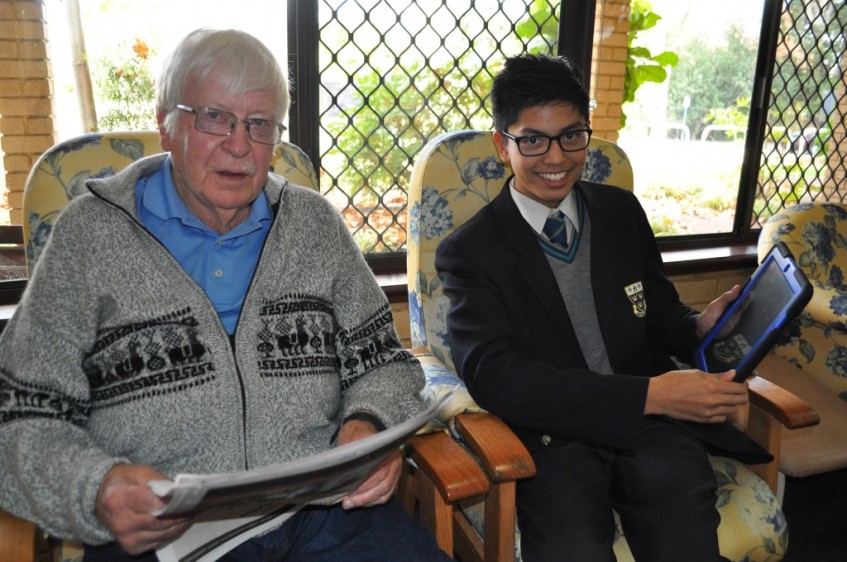 Student from Trinity College bonds over technology and the mysterious ways of the iPad with a resident at Archbishop Goody Hostel. PHOTO: Supplied
An intergenerational partnership, between Trinity College students and residents at Catholic Homes' Archbishop Goody Hostel in East Perth, is resulting in some unlikely friendships between students and residents who are bonding over technology and the mysterious ways of the iPad.
Residents at Archbishop Goody Hostel are proving that age is no barrier to learning new technologies, with the help of their young tutors from Trinity College who visit the aged-care home every Friday afternoon.
The students and residents spend time together through a range of activities, from playing games using iPads to playing instruments, doing little craft projects, and chatting about the past.
Catholic Homes Archbishop Goody Hostel Facility Manager Noelene Wright said the aged-care home has partnered with Trinity College for several years now.
"Our residents absolutely love having Trinity students visit them. For residents, spending time with young people is a chance to reminisce back to when they were in school, to compare stories about their school days and interests, and what it's like for the Trinity students at school now," she said.
"Older people can sometimes be lonely living in residential aged care because sometimes their own families might not be able to visit very often, so seeing a bright, friendly, young face is something to look forward to and really lifts the atmosphere here.
"The partnership is just as beneficial for the students themselves, because it's a chance for them to see our residents as individuals who are special and valuable in their own right, rather than just being 'old people'."
Catholic Homes Chief Executive Officer Sonya Smart said intergenerational partnerships, such as the organisation's partnership with Trinity College, help to keep elderly residents connected with the wider community.
"Our residents might not have grown up with computers, but that's no barrier to their enjoyment learning how to use iPads to play games and surf the internet, and they really enjoy seeing the incredible things the students can do on the iPads themselves," she said.
Catholic Homes Incorporated has been caring for seniors in the West Australian community for more than 40 years, providing a range of high-quality retirement and aged-care facilities.
With a community made up of staff and residents from diverse religious and cultural backgrounds, the not-for-profit organisation operates seven residential aged-care facilities and four independent living villages in Belmont, Bunbury, Duncraig, East Perth, Guildford, Joondanna and Wilson.