Archdiocese of Perth launches world-first Safeguarding Project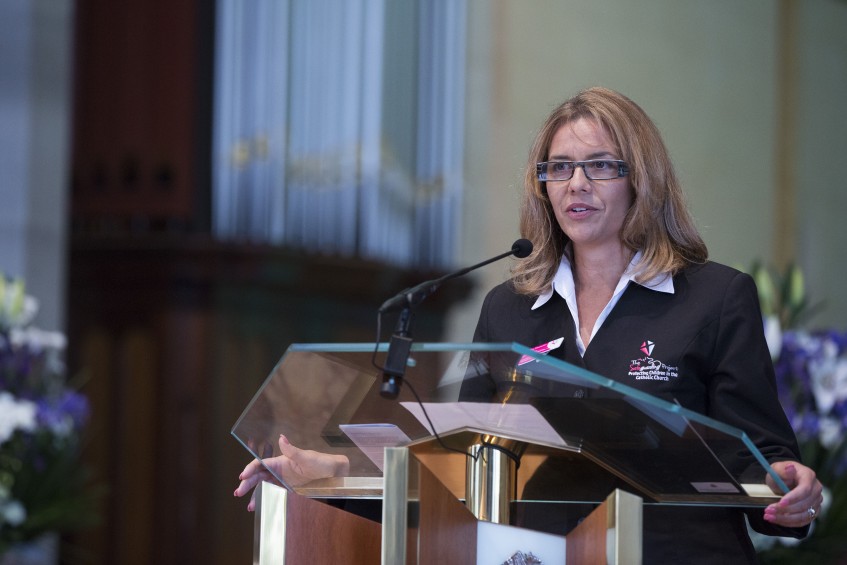 Archdiocese of Perth Safeguarding Project Officer Andrea Musulin at the launch of the Safeguarding Project on Sunday, 5 July at St Mary's Cathedral. PHOTO: Ron Tan Photography
By James Parker
"Child sexual abuse is a terrible problem, and it simply has to be dealt with. We cannot sit back and do nothing," said Archbishop Timothy Costelloe SDB at the official launch in St Mary's Cathedral last weekend of the Archdiocese of Perth's Safeguarding Project.
"Children need to be protected today," the Archbishop exclaimed, in what is being seen as the most robust strategic action being taken by any Australian bishop to right the wrongs of the past and to ensure the protection of children and the vulnerable in the future.
Following the Archbishop's homily, Archdiocesan Safeguarding Project Coordinator Andrea Musulin was invited to speak from the Cathedral sanctuary.
"When you are talking about protecting children, 100 percent is not enough. It always has to be more. That's what the Archdiocese of Perth is trying to achieve," Musulin stated.
Speaking at the conclusion of the launch, Musulin gave further clarity to the way in which the project will be delivered.
"I will be the overarching safeguarding officer, with two local officers appointed to every parish. The people chosen will be required to attend training and then we will look at ways in which, together, we can develop local projects that parents and children can attend.
"It is about making sure officers are au fait with the policies and procedures that I have written for the Safeguarding Project and that guiding principles are put into place and are being followed in parishes."
Speaking about the response from the four pilot projects in rural and metropolitan parishes, Musulin said that "the response has been overwhelming positive".
"The level of expertise of people wanting to fulfill these roles has been extremely high, with school principals, retired principals, police officers, child protection workers, and those with a high level of expertise in protecting children, all applying."
Musulin also wishes to see people without prior experience coming forward.
"A high level of expertise without the passion and dedication to do the work is not enough.
"So, I am looking for people who are 100 per cent committed and 100 per cent dedicated to protecting children."
Mandatory training will be provided for officers.
Throughout the year, a plethora of additional training to further develop and strengthen their capacities will be on offer.
The role of parental engagement was then highlighted, with Musulin emphasising that "having parental support of any program like this is vital".
"Children look to their parents for guidance and for reassurance. We all teach children about stranger danger and we all beat to the same drum. We have the same message and sit on the same page.
"When we talk about child sexual abuse prevention, we are not all beating the same drum, simply because these issues (about childhood sexual abuse prevention) were not addressed when we were children.
"So, we need to get parents on board and we need parents to be quite aware of how, what, when, and why child sexual abuse is perpetrated because it is then that we can actually work with children with parental support and that will make the program all the more the better."
When discussing the age-appropriate and developmentally appropriate nature of material to be shared with children, Musulin, as a mother, understands many parents have justified concerns and explained that, under the age of four, children are too young to grasp some of the strategies and concepts we teach them.
"For a child under four, we say, 'have no secrets'.
"Otherwise, it is teaching kids about what is a safe secret and an unsafe secret. Really, the importance is teaching children about [what is and what is not safe] from birth."
When discussing the receipt of allegations, Musulin was clear that the Safeguarding Officers are not the judge and jury.
"They are not the police providing the investigation. They are the person who receives the concern that then comes directly to me."
This project is seen as a first globally due to the strong preventative education it involves, otherwise known as protective behaviours education.
"This is our secret weapon among the many weapons we have," Musulin pointed out.
"Looking at the recipe for crime, 80 per cent of it occurs because of the opportunity to commit the crime.
"The sheer fact that children don't have the knowledge and are not empowered creates that 80 per cent chance of opportunity when we are talking about child sexual abuse.
"That said, there are things that we can teach children that would reduce that opportunity.
"When we are looking at a holistic view of protecting children and creating child-safe organisations, you cannot really have a child-safe program or policy that doesn't involve empowering children through education."
Reflecting on the united applause by the congregation after her short address in St Mary's Cathedral, Musulin said, "I think people are ready for this. It is the very lack of information, it's the lack of awareness, that has probably got us to where we are today".
"An open and aware culture, bringing [child sexual abuse] to the fore, coming to terms with the fact that it exists, are all going to help us in our journey to prevent it from happening in the future."
Each parish has received a short video clip outlining the purpose of the Safeguarding Project in which Archbishop Costelloe and the project coordinator, Andrea Musulin, summarise the way forward and invite parishioners to consider becoming volunteer safeguarding officers for their locality.

Additionally, information flyers have been sent out for widespread distribution in parishes with officer nomination forms being available for download at www.perthcatholic.org.au.
To contact the Safeguarding Office, please call 08 9221 7762 or email safeguarding@perthcatholic.org.au.