MercyCare opens new offices to better serve disadvantaged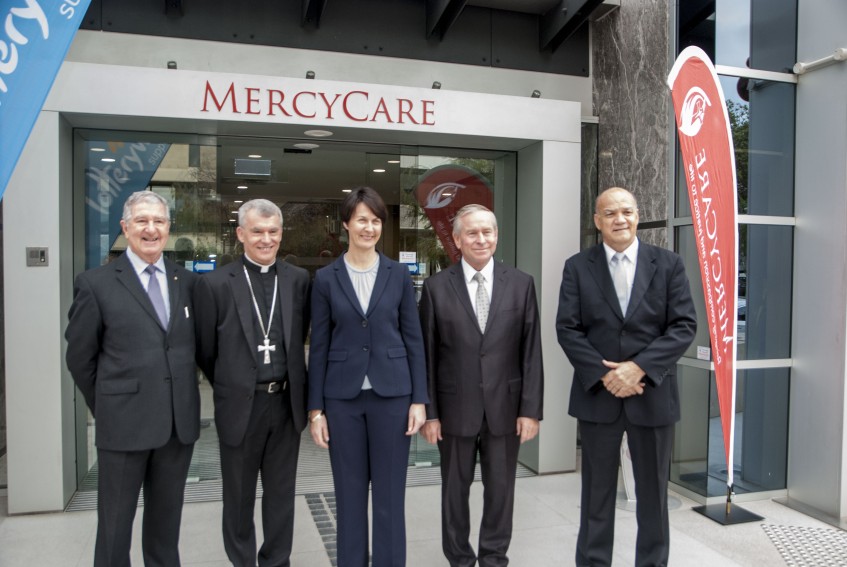 From left: Chair of MercyCare Trustees Tony Wheeler, Archbishop Timothy Costelloe SDB, MercyCare Board Chair Mary Woodford, WA Premier Colin Barnett and MercyCare CEO Chris Hall at the opening and blessing of the new MercyCare Central Office in Ord Street, West Perth, on Wednesday, 1 July. PHOTO: Marco Ceccarelli
By Marco Ceccarelli
The future as one of WA's leading Catholic providers of aged care, family, health and community services has never looked brighter as the new MercyCare central office in West Perth was declared open by Premier Colin Barnett on Wednesday, 1 July 2015.
MercyCare staff and volunteers from five different sites will now be working under one roof in a move that sees the not-for-profit organisation strategically develop its organisational capacity, resources and support services.
Among the dignitaries present at the opening and blessing were Archbishop of Perth Timothy Costelloe SDB; Auxiliary Bishop Don Sproxton; Western Australia Premier Colin Barnett; and WA Leader of the Opposition, the Hon Mark McGowan MLA; City of Perth Lord Mayor Lisa Scaffidi; Mr Ken Hayward (Welcome to Country); and numerous religious from the Sisters of Mercy.
While Chief Executive Officer at MercyCare Chris Hall led the formalities, Chair of MercyCare board Mary Woodford spoke about the significant progress made by MercyCare over the past two years.
In focus was the success of the comprehensive strategic planning process launched by the organisation in 2014. The plan mapped the future direction of MercyCare in what Ms Woodford described as "the new world for our organisation".
"We believe that MercyCare is extremely well placed to respond proactively and innovatively to this new world," Ms Woodford said.
"As part of our planning process, we have adopted a new vision for people and communities to thrive, to expand in our mission, bring compassion to life and break cycles of significant disadvantage," she added.
The five key strategic imperatives of MercyCare's new vision listed by Ms Woodford were:
Making a difference for people and communities experiencing severe disadvantage, marginalisation and discrimination
Enabling people to stay in their own homes and be cared for by providing a wide range of in-home and in-community support
Assisting with the transformation of local communities to be places where people are connected, supported and help each other
Creating affordable housing models that facilitate employment, participation and wellbeing
Reinventing MercyCare's social justice advocacy to engage and equip staff, volunteers, service partners and communities to achieve systemic change.
Ms Woodford also commented on the purpose that the new building will serve in achieving MercyCare's new goals.
She elaborated on the building's capacity to bring together the organisation's key corporate and management services that support more than 30 locations throughout WA.
"One hundred of MercyCare's 700 staff and 150 volunteers will work in the new building, significantly improving internal communication and collaboration and enhancing our visibility and access."
Premier Colin Barnett also addressed the attendees, drawing attention to the importance of MercyCare's work throughout WA and to the organisation's invaluable contribution to wider society.
"MercyCare touches the lives of more than 100,000 West Australians through its main areas of aged care, family and youth services, and health and community services.
"It always strikes me as a contradiction that WA is one of the wealthiest and most prosperous communities in the world and yet, like any community, we have people who, for whatever reason - bad luck, misfortune, health, or other conditions - find themselves in care.
"It is a strength of our society that not-for-profit groups like MercyCare and others do so much to help," the Premier said.
Mr Barnett acknowledged the role played by MercyCare CEO Chris Hall in developing a new model of not-for-profit funding that has seen money available in the community used efficiently and delivered fairly throughout the not-for-profit sector.
"In the current year, something like 1.4 billion dollars of state government money is delivered to the community services through the not-for-profit sector; that's been an increase of 600 million dollars in the last five years: more funding but different distribution," the Premier stated.
Following the unveiling of the plaque, Archbishop Costelloe bestowed his blessing on the premises and on those present, praying that the building "may be a space of collaboration, creativity and growth, respect, compassion, integrity, justice, courage and excellence, where leadership is strong, courageous and mindful of the common good".
"May it truly be a place where MercyCare's mission and values are planned and implemented for individuals, for families and communities," the Archbishop said.
Mr Hall concluded the event by highlighting the various symbols of MercyCare's heritage on display throughout the building.
He paid specific tribute to the small group of pioneer Sisters of Mercy who arrived to WA's Swan River Colony in 1846 to set up missions of care.
The total cost of the Central Office project was $15 million, $7 million of which was provided by Lotterywest to support the building's purchase and fit-out.
While approximately 100 staff are currently working in the new Central Office, it can accommodate up to 140 staff and volunteers.
To find out more about MercyCare's services, visit www.mercycare.com.au.