Midwife works to support parents of stillborn babies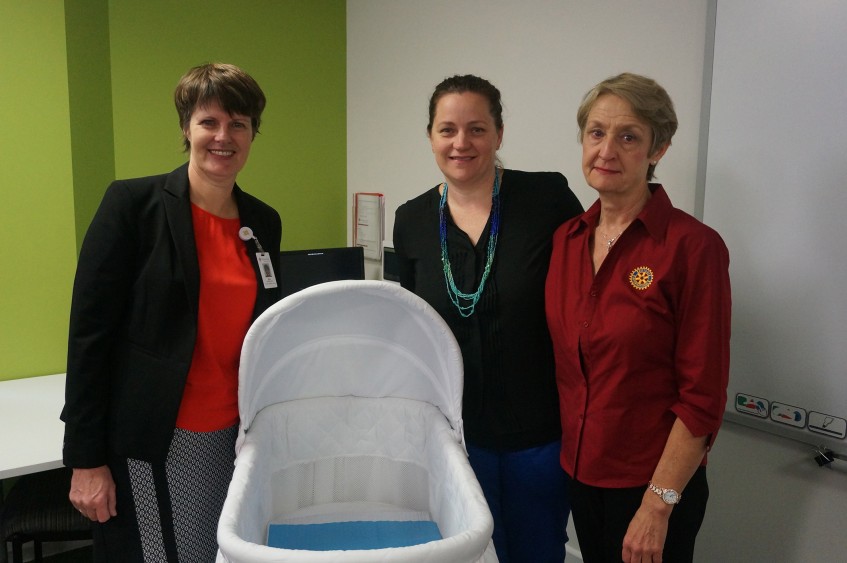 St John of God Murdoch Hospital Nurse Manager Sue Bradshaw, St John of God Mount Lawley Hospital midwife Kristy Wiegele and Melville Rotary Community Service Director Jacqueline Heron. PHOTO: Supplied
For parents of stillborn babies, minutes and hours become a lifetime of memories with their child.
In a bid to provide greater support for these families, St John of God Mt Lawley midwife Kristy Wiegele is on a fundraising mission to provide a 'Cold Cuddle Cot' for every hospital in Western Australia.
Kristy's initial fundraising efforts through her Facebook page, A Midwife's Gift, raised $4,000 for the purchase of a Cold Cuddle Cot which she donated to St John of God Mt Lawley Hospital.
In partnership with Melville Rotary Club, Kristy this week presented a Cold Cuddle Cot to St John of God Murdoch Hospital.
The cot, which looks like a Moses basket, circulates cool air underneath to allow babies to stay with their parents and family for longer periods of time.
Alarmingly, six babies are stillborn every day in Australia alone.
Kristy is a strong advocate for providing as much support and care as possible to enable parents to grieve the loss of their child.
St John of God Murdoch Hospital Manager Midwifery Sue Bradshaw said having the Cold Cuddle Cot would mean the baby can stay with his/her parents for longer, giving them the chance to bond, to grieve and to create memories in an environment where they can feel supported.
Kristy Wiegele said her aim was to raise enough money to donate a Cold Cuddle Cot to every hospital in WA.
She has already raised more than $45,000 since August 2014 and handed over cots to 6 maternity hospitals to date.
Kristy also won the Consumer Appreciation Award at the 2015 WA Nursing and Midwifery Excellence Awards.
St John of God Murdoch Hospital Chief Executive Officer John Fogarty welcomed the donation.
"This hospital has looked after mothers, babies and families for more than 20 years, and we are proud to have caregivers in St John of God Health Care such as Kristy who champion these causes for future generations."
To donate, please visit Kristy's FaceBook page A Midwife's Gift.