Notre Dame award to further important research in DCD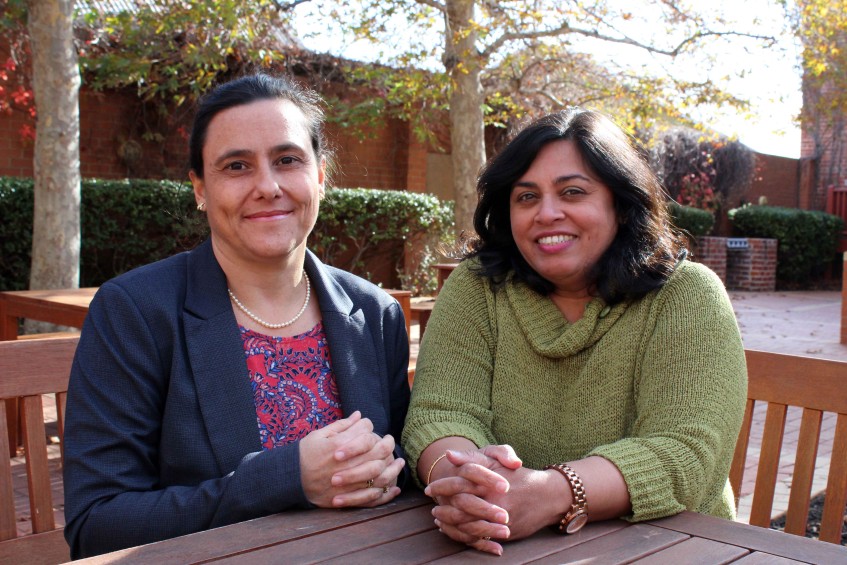 Dr Paola Chivers, The University of Notre Dame Australia Professional Development Award recipient, with Professor Selma Alliex. PHOTO: UNDA
Award-winning Research and Biostatistics Support Officer Dr Paola Chivers, from The University of Notre Dame Australia's Institute for Health Research, has received a $5,000 grant to further her research and engage with international experts in Developmental Coordination Disorder (DCD).
Dr Chivers was the 2015 recipient of The University of Notre Dame Australia Professional Development Award at the Perth Convention Bureau ASPIRE Awards Ceremony in May.
The Award consists of a research grant that is presented to a Notre Dame staff member to assist in personal and professional development through attendance at a relevant international conference of his or her choice, in his or her selected research area.
Dr Chivers will use her scholarship to attend the 11th DCD Conference in Toulouse, France, being held this month.
In addition to networking with researchers across the globe in the field of Developmental Coordination Disorder, Dr Chivers will also use the opportunity to promote the 12th DCD Conference which will be held in Fremantle, Western Australia, in 2017.
Dr Chivers is currently involved in the research components of Notre Dame's AMPitup Program (Adolescent Movement Program) delivered through the Institute for Health Research and currently oversees the bone density study.
Since 2010, and under the directorship of Professor Beth Hands and Dr Fleur McIntyre, the program has given adolescents in WA the opportunity to engage in a personalised exercise program to improve motor coordination, build confidence and encourage a healthier lifestyle.
At DCD11, Dr Chivers will present results that demonstrate the AMPitup program improves fitness in adolescents and that these benefits increase with sustained participation.
"AMPitup provides a very important gap in services for adolescents with Developmental Coordination Disorder here in WA.
"Early intervention strategies result in services that target young children and the previously considered notion that children will 'grow out of' the disorder means programs for adolescents are lacking," Dr Chivers said.
"As a result, adolescents tend to not only suffer as a consequence of movement difficulties, but also effects in the social and emotional aspects of their lives too."
Head of the Fremantle Campus, Professor Selma Alliex, said Dr Chivers' research work with the Notre Dame team has been the first to link poor coordination with low bone density and higher risk of fractures.
"Paola's ongoing research in collaboration with the Institute for Health Research will continue to change the lives of many people in WA living with Developmental Coordination Disorder," Professor Alliex said.
"The University is grateful to the Perth Convention Bureau for making it possible for one of our staff to attend an international conference."
In what will be a significant event for WA, the 12th DCD Conference will be hosted in Fremantle in 2017.
This was made possible through the joint efforts of a research collaboration called Move.Grow.Engage, comprising DCD researchers from Notre Dame, Curtin University and the University of Western Australia, and the Perth Convention Bureau in formulating the bid proposal.