Secular Franciscans celebrate new members in the Goldfields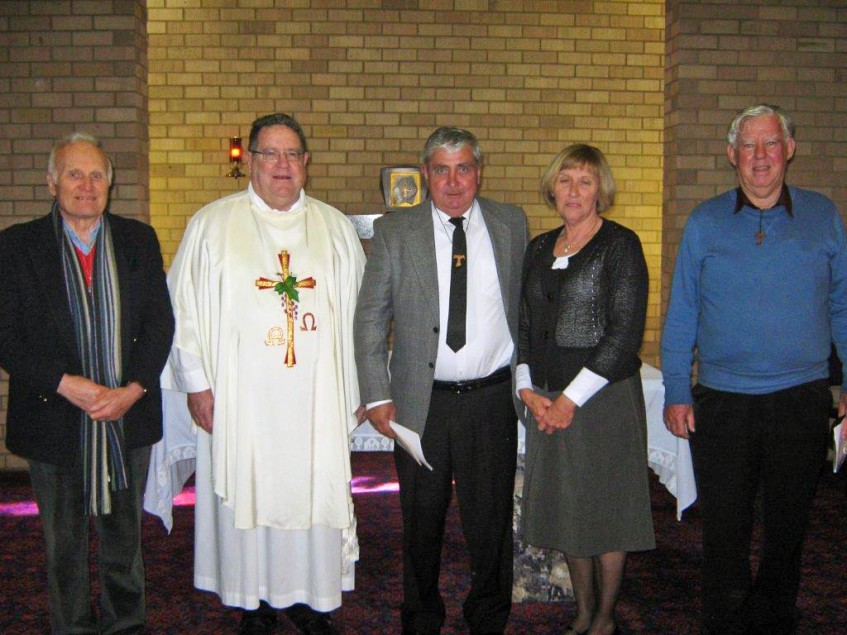 Left to Right; Minister of the Perth Secular Franciscan Fraternity John Barich; St Mary's Kalgoorlie parish priest Fr Andrew Bowron; Michael Crowley, Suzanne Crowley and Secular Francisan Acting Formator Harry Argus at the admission of Michael Crowley into the Secular Franciscan Order on Saturday, 13 June. PHOTO: Supplied
By Harry Argus ofs and Mark Reidy
There was a sense of great excitement when eight members of the Perth and Balcatta Secular Franciscan Order last month travelled to Kalgoorlie to join local parishioners to witness the profession of seven new members into the Perth Secular Franciscan Fraternity.
"It was a blessed and moving occasion for all who attended," said Harry Argus OFS, who had assisted in the formation of the new Kalgoorlie members.
The weekend proceedings began with Mass on Saturday, 6 June at St Mary's Church, celebrated by parish priest Father Andrew Bowron. At the conclusion of Mass, the Rite of Admission into the Franciscan Order was conferred on local man, Michael Crowley, initiating the commencement of his 12-months candidacy of studies.
Celebrations continued the following day on Sunday, 7 June when the Rite of Profession of the Secular Franciscan Order took place during the parish Mass.
Fr Bowron and the Minister of the Perth Fraternity, Mr John Barich, conducted the liturgy of the professions and witnessed Francis Andinach, Irena Antoniak, Sam Antoniak, John Butcher, Francis Chomba, Donna Cross, and Barbara Simpson make their professional promises to Almighty God and to the Secular Franciscan Order.
"Being the first ever Secular Franciscan professions in the Goldfields, local parishioners took a keen interest in the proceedings," Mr Argus said.
"They were able to congratulate and celebrate with the newly professed on this special day in their spiritual life."
Mr Argus went on to say that the professions in June were not the only occasion in Kalgoorlie that the Secular Franciscan Order has celebrated this year.
He said that, earlier this year (28-29 March), members of the Perth and Balcatta Fraternities had also travelled to the parish to confer the Rite of Admission on Gabriel Morey, Michael Kaufuti and Neta Kaufuti as candidates into the Perth Secular Franciscan Fraternity.
Mr Argus went on to explain that those who join the Secular Franciscan Order are either married or single men and women from all walks of life, who personally identify that they are called by the Holy Spirit to live a Franciscan spiritual life of prayer while living within society.
He also said that diocesan priests who are not affiliated with any Religious Order in the Church are also able to become members.
"There is no commitment of religious vows involved for the laity, such as poverty, obedience and chastity that are taken by those living in an enclosed religious community," Mr Argus said.
He explained how St Francis had written a Rule of Life for members of the Secular Franciscan Order to follow, and to help them grow in their spiritual life.
"St Francis also encouraged followers to try to Live the Gospel Life in following Our Lord in their vocation," Mr Argus added.
It is estimated that there are some 350,000 Secular Franciscans living in the world today.
Over the centuries, there have been a number of popes, cardinals, bishops, priests, kings, queens, and people from all walks of life who have become members of the Secular Franciscan Order and have now been canonised saints in the Church.
For further information, please contact Angela McGuire (WA OFS Regional Minister) on 08 9275 5658, Mobile 0408 801 215 or email angelmich@bigpond.com.