Support fuels Fr Geoff's passion for the Gospel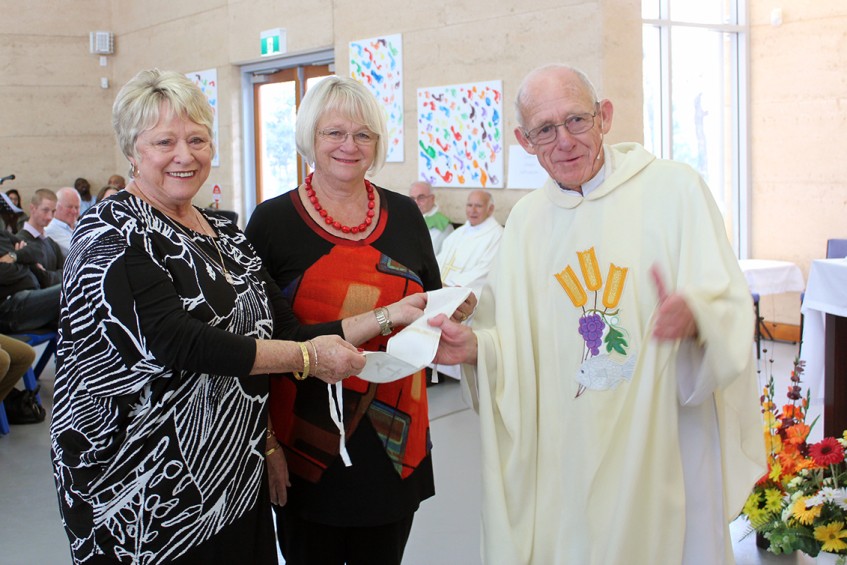 Fr Geoff Aldous, who last weekend celebrated his 50th anniversary of priestly ordination, with his two sisters, Wendy Murphy (left) and Jill Stinson. PHOTO: Leanne Joyce
By Mark Reidy and Jamie O'Brien
With some 50 years of priesthood now under his belt, Baldivis parish priest Father Geoff Aldous had every reason to celebrate last weekend.
With more than 300 family and friends in attendance, Fr Geoff celebrated a thanksgiving Mass at Mother Teresa Catholic Primary School Hall on Sunday, 5 July, together with Archbishop Emeritus Hickey, Perth Auxiliary Bishop Don Sproxton, Geraldton Bishop Justin Bianchini, 12 priests and two deacons.
Ordained at St Mary's Cathedral on 3 July 1965, Fr Geoff has served throughout the state, from metropolitan Perth parishes to the wide-open spaces of the Central Wheatbelt, as well as in the Diocese of Geraldton.
Appointed in 2010 as parish priest of the new Baldivis parish - a semi-rural but rapidly developing sector 40km south of Perth - Fr Geoff's passion for one of the Archdiocese's newest pastoral areas has fanned a fire within him.
In his own words, Fr Geoff said he feels as though he has been blessed with a very diverse, enriching and fulfilling ministry as a diocesan priest.
"Perhaps I can now say, in biblical terms, that the best wine has been kept to last... which is, for me now, the challenge of pioneering the wonderful pastoral area of Blessed Teresa of Calcutta, Baldivis.
"I truly thank God for his many blessings of these 50 years."
In an interview earlier this year with the Communications and Media Office, Fr Geoff said his work at the new Baldivis parish, and the journey associated with that, has been very good in every way.
"I enjoy pretty good health (most of the time) and have plenty of energy and enthusiasm for the apostolate."
Although the parish does not yet have a church building, Fr Geoff's enthusiasm is fuelled by the support he is receiving from the fledgling community, which continues to grow in size and passion.
It is this faith and love that inspires the pioneering priest on his quest to visit as many people in the area as he can.
With more than 600 people in the area identifying themselves as Catholic on the most recent census, Fr Geoff endeavours to spend a few hours each day visiting families who are not currently participating in Church life, as well as those who are already actively involved.
"There is no such thing as a typical day," he reflects, "but, as I am not weighed down by the demands that may exist in more developed parishes, I am able to spend time with visitations. I always return home with a spirit of joy and privilege."
This sustained outreach has meant the usually shy and reserved cleric has become more extroverted in his approach and he is pleased with how the community is flourishing, taking encouragement from the words of Pope Francis, 'I prefer a church which is bruised, hurting and dirty because it has been out on the streets, rather than a church which is unhealthy from being confined and from clinging to its own security. I do not want a church concerned with being at the centre and then ends up by being caught up in a web of obsessions and procedures."
"We have a long way to go and struggle in some areas," Fr Geoff shared.
"But the spirit is strong and the challenge now is to develop this spirit as the parish continues to grow."
Fr Geoff has had a wide variety of parish and pastoral experience over his five decades of priestly ministry, from the city suburbs of Victoria Park, Mirrabooka, Whitford and Innaloo, as well as in the regional areas of Kellerberrin, Northam, Geraldton and other towns in the Central Wheatbelt.
He has also been Chaplain for some years, administering to Young Christian Students, Young Christian Workers and other Christian Life groups.
Fr Geoff says one of his greatest joys has always been meeting and getting to know parishioners and, in particular, witnessing the faith development of new people entering the Church through programs such as RCIA.
He is looking forward to the development of such initiatives in his recent placement.
In between his priestly duties, outreach and community commitments, Fr Geoff maintains his physical and emotional health by leading a life of activity normally associated with younger generations.
"I like to keep fairly fit, without going overboard," he shared.
"I like swimming, bush walking, bike riding and sometimes surfing and even golfing, although, I must admit, very poorly."
These physical activities are intermingled with spending time with family and friends, as well as in his workshop and veggie garden and his enjoyment of cooking is enhanced by his chickens, Mary and Martha, which provide eggs for his cuisine.
"My greatest joy, however, is seeing people come alive and grow in their faith," he shared.
"I know the future is always in God's hands but, health permitting, and in consultation with the Archbishop, I hope to remain here in the parish I love and with the people I love."
At the conclusion of Mass on Sunday, Fr Geoff's family, friends and past and present parishioners enjoyed a luncheon and reflected on the many gifts and talents he has generously shared during his ministry.
With assistance from Leanne Joyce, Rockingham parish