Mercy College works towards building a caring community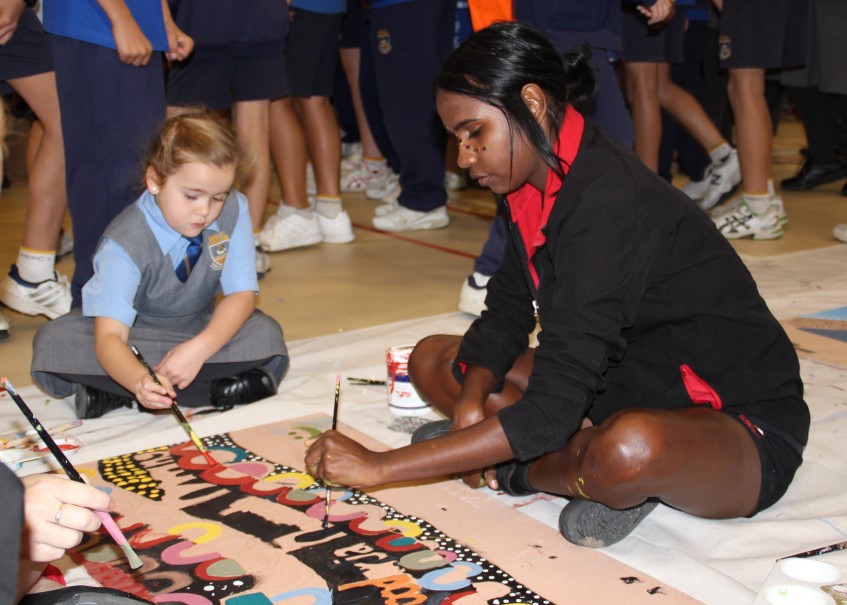 Tasimah Francis (right) from Clontarf College with Year Two student Amarah Dougan (left) from Mercy College Koondoola work together on an activity as part of NAIDOC Week celebrations at Mercy College. PHOTO: Supplied.
A new whole-school focus group centred on building relationships and creating a welcoming, open, inclusive and respectful environment has been introduced at Mercy College Koondoola.
College Principal Julie Hornby introduced the focus group called GECKOS - Growing Enriched Cultural Knowledge in our Schools - with the aim of providing students with a greater insight and appreciation of the people around them.
The development of the focus group coincided with the 2015 National Aboriginal and Islanders Day Observance Committee (NAIDOC) Week, which was this year held from 5-12 July.
NAIDOC Week is an annual event celebrating the history, culture and achievements of Australian Aboriginal and Torres Strait Islander people, while also being an opportunity to recognise the contributions that Indigenous Australians make to our country and our society.
The focus group, which includes a combination of teachers, education assistants and social workers, work with the various year groups at the college, and were tasked with building relationships and creating a welcoming, open, inclusive and respectful environment.
Aboriginal Teaching Assistant Mary Eades said that, in fulfilling the task at hand, the focus group put together plans for a gathering place, where not only the college's Aboriginal students could meet, but any group of students from its diverse community could sit and tell stories.
A yarning circle (Wadjuk Boodja) was then designed and built by Year 11 students as a service project.
Year 11 student Alex Silla said the focus group encapsulates what the yarning circle is truly about.
"To gather, to share and to yarn," Alex said.
Parent Jamie Jackson added that the yarning circle is a great sign and acknowledgement for the Noongar people at the College, in addition to reinforcing the existence of their unique history and rich culture.
The culmination of the staff and students' hard work and good planning saw the yarning circle officially opened at the commencement of NAIDOC Week.
Students and staff from Clontarf College visited the college to meet with students from Kindergarten to Year 12 for NAIDOC Week activities which included the opening of the Wadjuk Boodja.
All students were invited to partake in boomerang painting, face painting, damper tasting, hand exchange, making friendship bands and painting a number of murals while rocking to the tune of Johnny Be Good performed by the Clontarf students' Rock Band.