Archbishop Costelloe to celebrate Annual Marriage Day Mass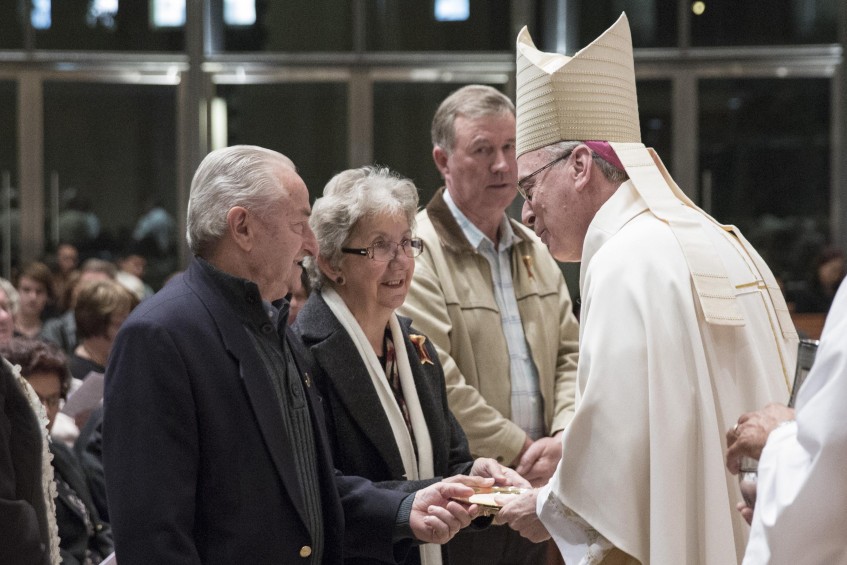 Auxiliary Bishop Don Sproxton receives the gifts from married couple during the Annual Marriage Day Mass at St Mary's Cathedral on August 18, 2014. PHOTO: Ron Tan Photography
Married couples across the Archdiocese will next month have a special opportunity to have their marriage vows blessed and renewed by Archbishop Timothy Costelloe at the Annual Archdiocesan Marriage Day Mass.
The annual Marriage Day Mass will be celebrated at St Mary's Cathedral on 11 August at 7pm. Couples celebrating a significant anniversary this year, specifically 25, 30, 40, 50, 60 or 70 years, will also receive a certificate from the bishops to commemorate the special milestone in their marriage.
Director of Catholic Marriage and Fertility Services, Derek Boylen, said 2015 will be the eleventh year the event has been held and gives married couples the chance to look back at the work God has done for them.
"In front of all the challenges facing a Christian marriage today, it is important we make time to remember the love and unity that Christ has allowed us to experience," Mr Boylen said.
"As married couples, too often we go through life, day after day, sometimes without a chance to reflect on how, why and where the Holy Spirit is guiding us, showing us what it really means to love – like Christ did – and how, as Christians, we, in turn, can pass on the gift of faith to our children and those around us through this love," he said.
In a homily delivered earlier this year speaking about family, and specifically about marriage, Pope Francis said that a Christian marriage is not merely a ceremony that is done in a church, with flowers, dress, and photos, but "is a sacrament that takes place in the Church and makes the Church".
Christian marriage, said the Pope, should never be reduced to material things.
The Pope went on to speak about how St Paul introduced the analogy between the couple, husband and wife, and Christ and the Church.
"It's clear that this is an imperfect analogy, but we have to grasp the spiritual meaning that is very high and revolutionary," Pope Francis said, noting Paul says the love between husband and wife is the image of the love between Christ and the Church.
"Unthinkable dignity!" he said, "but, in reality, it is inscribed in God's creative design and, with the grace of Christ, innumerable Christian couples, despite their sins and limitations, have achieved this!"
Pope Francis reminded those gathered of Paul's words that a husband must love his wife as himself, just as "Christ 'loved the Church and gave Himself up for Her'".

The Sacrament of marriage, the Pontiff noted, is a great act of faith and love, and requires courage to step beyond one's self.
"The Christian vocation to love unconditionally and without limit is what, with the grace of Christ, is the basis of the free consent which makes marriage," he said.
The Church itself, the Pope said, "is fully involved in the history of every Christian marriage and is built in its successes and failures, and suffering."
If you know of couples who are celebrating a significant anniversary in their marriage, please put their names forward, or have them contact Catholic Marriage and Fertility Services on 08 9241 5000 or by emailing derek.boylen@perthcatholic.org.au. All names must be received by 27 July.