Griver biographer presents slice of history to Ambassador in Ireland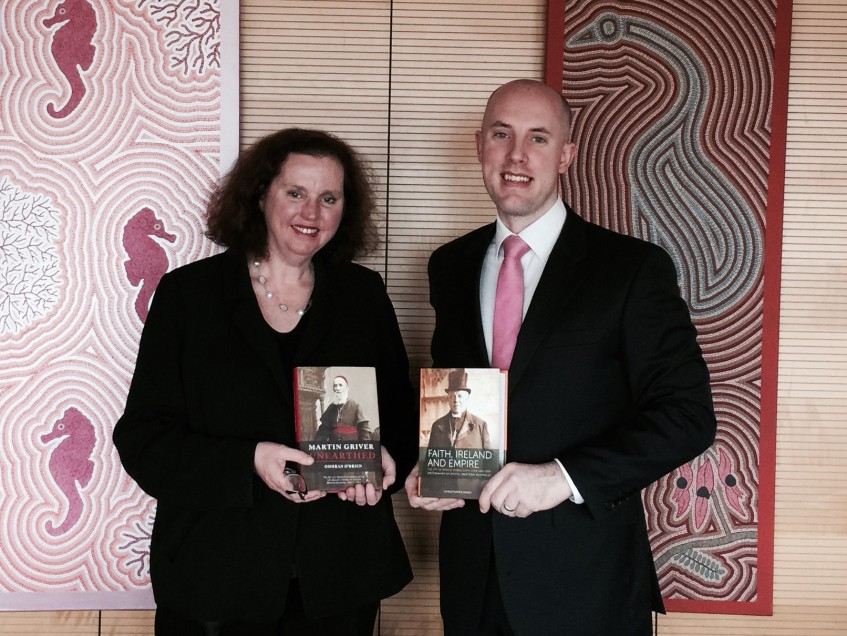 Perth author Odhran O'Brien this month met with Australia's Ambassador to Ireland, Dr Ruth Adler, to present her with a copy of the recently released books by the Archdiocese of Perth, showcasing the life of Archbishop Patrick Clune and Bishop Martin Griver. PHOTO: Supplied
Perth author and biographer of Unearthed – Martin Griver, Odhran O'Brien, this month met with Australia's Ambassador to Ireland, Dr Ruth Adler, to present her with a copy of the recently biographies showcasing the life of Archbishop Patrick Clune and Bishop Martin Griver.
Mr O'Brien said Ambassador Alder was delighted by the gift and pleased to see research on aspects of Irish/Australian history.
The books, which were officially launched in April this year, provide a unique insight into the lives of Bishop Martin Griver (1814–1886) and Archbishop Patrick Clune (1864-1935), recalling the stories of faith, empire and social justice during the challenging early years of the local community in Perth and the Church in the 19th and 20th centuries.
The Archdiocese commissioned the books during the restoration of St Mary's Cathedral, which was completed in 2009.
As Catholic bishops, Griver and Clune were charged with both the spiritual and earthly care of the Catholic community in Western Australia.
In addition to vigorously travelling the expanse of Australia for their pastoral duties, they built churches and schools, established charitable organisations and campaigned for better social welfare on behalf of the underprivileged.
A friend of Bishop Rosendo Salvado, the founder of New Norcia, the Spaniard Martin Griver was both a surgeon and a scholar of saintly reputation.
His accounts of travelling the Western Australian outback in the 1850s and 1860s give a unique glimpse into colonial life in the Antipodes.
Originally from Ireland, Mr O'Brien has been applying his research skills to his work as a Heritage Advisor for the Town of Claremont and is currently pursuing a PhD at the University of Western Australia on the relationship between the Catholic Church and government of Western Australia during the colonial period.
To order your copy of the book, click here.