Youth called to find real happiness in relationship with God at Veritas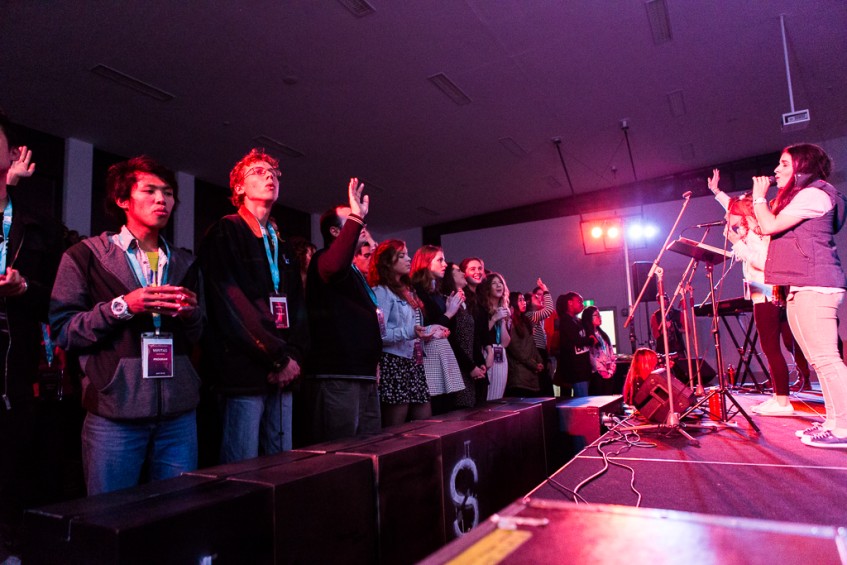 The Disciples of Jesus 24/7 music ministry perform at the opening of the inaugural Veritas Youth Festival, which was held from 10 to 12 July 2015 as an initiative of the Catholic Youth Network, which is a collection of youth agencies, communities and movements from across the Archdiocese. PHOTO: Supplied
Real happiness lies in a deep relationship with God and not through material possessions, money or power, said Ryan Shelton, keynote speaker at the recent Veritas Youth Festival.
The inaugural Veritas Youth Festival was held over the weekend of 10 to 12 July 2015 as an initiative of the Catholic Youth Network, which is a collection of youth agencies, communities and movements from across the Archdiocese.
The weekend theme focused on the World Youth Day 2015 message from the Gospel of Matthew and as determined by Pope Francis, 'Blessed are the pure in heart for they shall see God' (Matt 5:8).
Mr Shelton, Religious Education Co-Ordinator at St Joseph's School, Northam and a member of the Ignite Youth team, spoke to more than 400 youth on the theme of Blessed, the first part of the theme for the Festival.
Mr Shelton also spoke about his own pursuit of happiness and the need to focus on having a complete and intimate relationship with God, which will achieve true eternal happiness.
At the conclusion of his presentation, Mr Shelton encouraged the youth present to come forward and place a stone in a bowl of water, as a symbolic gesture of 'sinking into their relationship with God' rather than 'skimming along the surface'.
Director of Catholic Youth Ministry (CYM) for the Archdiocese of Perth, Anita Parker, said the aim of the Festival was to highlight the local talent in Perth of youth ministers, teachers and groups who are committed and passionate about ministry with young people.
"The result was an amazing weekend of high-energy music, engaging speakers, interactive workshops and the Catholic Superfest," Ms Parker said.
"Youth today are constantly bombarded with a variety of messages – sometimes not always very positive or in a Christian mindset - and we felt it important to give them an opportunity to see how God is real and speaking to them in their own lives," she said.
The weekend began with a free night for both teens and young adults and also included the Archdiocese of Perth launch for the 2016 World Youth Day packages.
During the launch, Ms Parker and fellow CYM Perth colleague, Vincent Haber, were able to share experiences of their recent travel to Poland with the new tour operator Cosmos, where they took a close look at preparations currently being organised for the exciting journey due to take place in July 2016, that will give youth who attend the opportunity to explore the homeland of St Pope John Paul II.
In her presentation for the Festival, Ms Parker, who was also a keynote speaker, spoke about the meaning of purity and the need for youth to develop an understanding that the 'Church is not a hotel for saints, but a hospital for sinners'.
"We are all in need of reconciliation and regular purification through the sacraments, which leads us into a deeper relationship with God," Ms Parker said.
24-7 Youth Ministry leader Mario Borg led the 'Heart' night of the event which included moving prayer, adoration, praise and reconciliation.
Mr Haber continued the momentum of Mr Borg's presentation, calling on each young person to remember their need for 'SPACE' an acronym for Scripture, Prayer, Acts of Mercy, Confession and Eucharist.
Some 18 workshops were facilitated over the weekend by various groups and individuals, covering the Truth about Media, by Archdiocese of Perth Senior Communications Officer and eRecord Editor, Jamie O'Brien; Sports for Justice with Caritas Australia; Remaining Catholic at College/Uni with the Murdoch University Chaplaincy team; A Philosophy café with the University of Notre Dame Australia; the Truth about Marriage with Derek Boylen; and the Truth about Religious Life – Past, Present, Future with Catholic Religious WA.
Ms Parker said there was also the opportunity for youth who attended to discuss their thoughts on the Church today and how young people can engage more at a discussion forum on the Saturday afternoon, facilitated by Chantelle Bertino-Clark and Anita Parker.
Ms Parker went on to say that, as well as having the Festival at a terrific venue at Santa Maria College, which provided a beautiful backdrop, the inaugural Veritas Youth Festival was a great success in bringing together so many young people and the various youth groups from around the Archdiocese.
"It will be great to see this type of event continue to grow and become a regular opportunity in the Archdiocese with more groups and young people becoming engaged in active Church life."
The Catholic Youth Network would like to thank the sponsors of the Veritas Youth Festival: Catholic Super, Cosmos, Santa Maria College and Catholic Development Fund.