Beloved priest of Hamilton Hill finds eternal rest after a life of service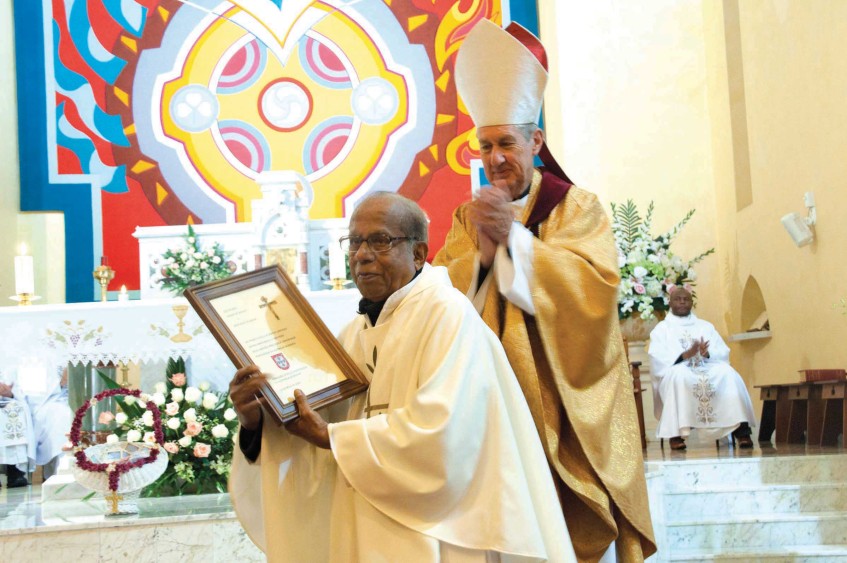 Archbishop Emeritus Hickey presents Fr Julian Carrasco with a special certificate in recognition of and gratitude for his pastoral services to the Portuguese community of Australia in 2014. Fr Julian passed away on Saturday, 11 July at Fiona Stanley Hospital after a long battle with ill health. PHOTO: Mat De Sousa
By Mat De Sousa
Messages of prayers, thanks and fond memories have poured in throughout social media following the death of Fr Julian Luis Matias Carrasco earlier this month – a priest who has been described by many as "a rock" and "a man with a heart of gold".
The beloved priest of the Archdiocese arrived in Perth in 1991 and passed away peacefully on Saturday, 11 July, at Fiona Stanley Hospital after a long battle with ill health.
Based at Holy Cross Church in Hamilton Hill, Fr Carrasco passionately dedicated 24 years of his life to the Portuguese, Goan and Timorese communities of the Archdiocese of Perth.
Promoting unity among the Portuguese people and teaching the Konkani (Goan) language to local members of the Goan community are but two of the many achievements that can be attributed to Fr Carrasco's name.
Born at Mombasa, Kenya, on 20 December 1930, Fr Carrasco undertook his seminary studies at the Rachol Patriarchal Seminary, Goa, India, from 1941 to 1953. He was ordained in the Basilica of St Francis Xavier, Goa, on 6 January 1954.
Fr Carrasco began his first appointment at the parish of St Thomas in Aldona, Goa, in the same year, remaining there until 1961, when he began postgraduate studies at St Francis de Sales College, Nagpur.
In an interview with The Record Newspaper in 2009, the late Fr Douglas Rowe SFP described Fr Carrasco as "a very energetic chap and a mean soccer player" with whom he had the privilege of playing on many occasions.
Fr Carrasco taught in Goa's Missionary Seminary of Pilar from 1965-1966 before returning to his country of birth, Kenya, where he worked as a missionary and secondary school teacher in the Ngong Diocese from 1966-1986.
He also worked as an assistant priest in the Brazilian Campo Mourao Diocese, Parana, from 1986-1987 before making the move to the Diocese of Macau where he held the same position from 1987-1991.
Fr Carrasco was invited to the Archdiocese of Perth by the now late Bishop Robert Healy in 1991 and was incardinated into the Archdiocese on 15 April 2000 at the suggestion of the now late Fr Ned Donovan SMA.
He was Fr Donovan's assistant in Beaconsfield and Portuguese Chaplain based at Holy Cross Church, Hamilton Hill, from 1991-2008.
One of the highlights in Fr Carrasco's life was receiving the Croce Pro Ecclesia et Pontifice (Cross for the Church and Pontiff) during a ceremony presided over by Archbishop Emeritus Barry J Hickey at St Charles' Seminary, Guildford, on 18 June 2009.
The Croce Pro Ecclesia et Pontifice award, founded by Pope Leo XIII in 1888, is presented to priests on the occasion of their 50th anniversary of priestly service.
During the Feast of Our Lady of Fatima in 2014, Archbishop Emeritus Hickey once again presented Fr Julian Carrasco with an award, this time in recognition and gratitude for his decades-long pastoral services to the Portuguese community of Australia.
After retiring in 2008, Fr Carrasco continued to be active in his ministry by celebrating Mass for the Portuguese Community of Perth and visiting the sick in their homes, hospitals and nursing homes.
The countless people who came together in recent days to express their sorrow at the loss of this great man are testament to the dedication and influence that Fr Carrasco had on those whom he loved dearly.
Perhaps this was his parting gift - that people never miss an opportunity to unite and support each other in both the sorrows and joys of life.
The funeral for Fr Julian Carrasco was celebrated by Archbishop Emeritus Barry Hickey, with the assistance of Archbishop Timothy Costelloe SDB, Auxiliary Bishop Donald Sproxton and Holy Cross Parish Priest Fr Nicholas Nweke, at Holy Cross Church in Hamilton Hill on Saturday, 25 July.
The Mass saw hundreds of faithful and more than 20 priests from around the Archdiocese in attendance. The voices of choirs from many different communities could be heard from afar as they came together to honour Fr Carrasco with music which he held dear.
After touching eulogies by close family and friends, Fr Julian Carrasco was laid to rest at Fremantle Cemetery.