The wisdom to be able to answer 'why me Lord'?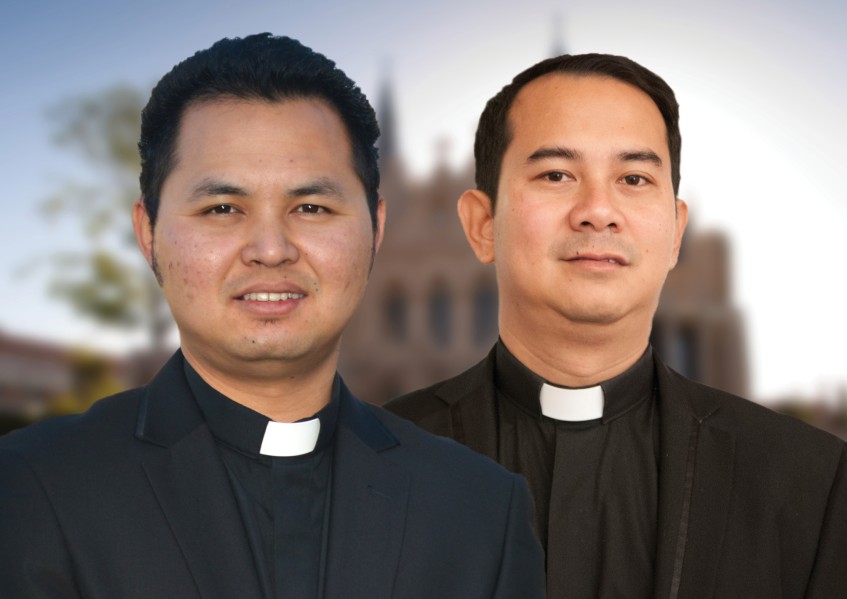 In this article, Marco speaks with Deacons Simeon San and Jeffey Casabuena. GRAPHIC: Mat De Sousa
By Marco Ceccarelli
In light of the ordination to the priesthood of eight deacons this week, eRecord journalist Marco Ceccarelli has spoken with each candidate about his faith journey.
In this article, Marco speaks with Deacons Simeon San and Jeffey Casabuena.
If the choice of the name "Francis" was used by our Pope to signal, as the Italian Saint did, that he intends to "rebuild God's Church", then the upcoming priestly ordinations of Deacons Jeffey Casabuena and Simeon San would undoubtedly please the Pontiff.
The two young Deacons, who will be ordained as priests for the Archdiocese of Perth on 1 August, recently described their upcoming ministry as a journey of devotion and commitment that has completely transformed their lives.
Thirty-five-year-old Deacon Jeffey Casabuena, who has for the past eight months been on parish placement at St Andrew's Parish, Clarkson, recently stated that "being a deacon has been a life-changing, challenging but rewarding experience".
"I hope and continue to pray that God, who has called me to serve His people, will bless me with the grace I need to remain faithful to his call.
"Without His help, I would not be able to perform my duty to those entrusted to my care as a shepherd formed according to the heart of Jesus," Deacon Jeffey said.
Born in the town of Hinigaran, located in the Western Visayas region of the Philippines, Deacon Jeffey completed part of his religious formation at the Sacred Heart Seminary of Bacolod City and at The University of Santo Tomas, Manila, obtaining a Philosophy degree and a Bachelor of Sacred Theology.
Despite being drawn to a career in academia, he felt a strong desire to enter the priesthood and was particularly inspired by Fr Robert Carrillo, the Parish Priest of St Andrew's Parish, Clarkson.
Fr Carrillo would often visit Jeffey's parish in the Philippines and encouraged him to enter the seminary.
After obtaining his visa, Deacon Jeffey finished his formation at St Charles' Seminary, Guildford, and is now preparing to lead the Church through a combined effort of clerical and lay cooperation.
"I hope that my ministry in the future will be working hand-in-hand with our parishioners and lay faithful as we all build a Church which is responsive to the needs of our people and looks after those who are the least, the last and the lost," he said.
In light of the upcoming National Vocations Awareness Week (9-16 August), Deacon Jeffey's comments to those discerning the call to the priesthood shed light on the beauty and rewarding nature of this honourable ministry.
"Every one of us has been given a gift and a call to a specific vocation, be it in married or single-blessed life, religious or the priesthood.
"If God has planted in your heart the desire to serve Him in that vocation, especially those who are discerning the call to the priesthood, my advice is to pray for the wisdom to be able to answer the question 'why me, Lord?'
"If you fell called, be grateful and thankful because in that gift you will find happiness in the most amazing way. There's no other way to become happy but to give up your life for God and for His people," Deacon Jeffey said.
Similar words of encouragement to anyone contemplating the priesthood were offered by 29-year-old Deacon Simeon San, who has for the past eight months served as deacon in St Joseph's Parish, Subiaco and All Saints Parish, Greenwood.
Originally from Myanmar (Burma), Deacon Simeon was raised within a family with strong Catholic values in a small village named Pan Hlaing.
Regular voluntary work with the local parish in the town of Maubin, coupled with frequent pastoral visits from seminarians of the St Joseph Catholic Major Seminary, Yangon, saw Deacon Simeon slowly gravitate towards the seminary.
He arrived at St Charles' Seminary in 2006 and now stands at the doorstep of the ministry he has always desired to fulfill.
"I am grateful to God for these past eight months serving as a deacon. The possibilities to proclaim the Gospel, preach homilies, perform funerals and baptise children have truly prepared me for the priesthood.
"I have gained confidence and have more fully understood that this role has nothing to do with me, it is about serving God's people," Deacon Simeon said.
Although the road he has walked thus far has often been long and arduous, particularly since English was not Deacon Simeon's first language, he has described his experience as both a "tough yet wonderful" journey.
"Throughout these years, God has given me countless blessings and has called me, of all people, to take on this ministry.
I gladly respond to His call with a resounding 'yes' and offer my life to serve His Church," Deacon Simeon said.
Deacons Jeffey and Simeon will be ordained by Archbishop Timothy Costelloe at St Mary's Cathedral, Perth, on 1 August 2015, at 10am.