Church building going free to first bidder
FREE CHURCH BUILDING… HURRY, MUST GO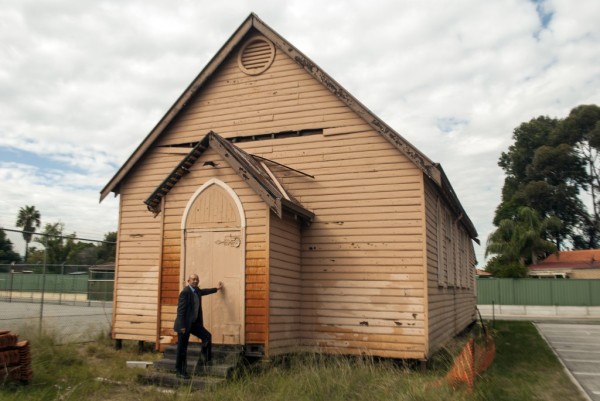 Father Patrick Lim, current parish priest of Gosnells, shows off the 98-year-old church being given away. PHOTO: Mark Reidy
If you have ever dreamt of owning a church building, then the 98-year-old structure currently sitting on the grounds of St Munchin's Primary School in Gosnells could be for you.
"Tell everyone there is a Chinese priest giving away a free church," said current parish priest, Father Patrick Lim with a laugh.
"That should get people's attention."
Fr Lim is looking for a person, group or community to take the wooden building away as soon as possible so that room can be made for a reconfiguration of the school car park and pick-up area.
He is hoping for a win/win situation where the parish can save on demolition fees and a third party can preserve a piece of Gosnell's history.
"The building has been a special part of our parish's life and it would be great if it could continue to be of use to someone," Fr Lim said.
If a new owner can be found, it will be the third time the building has been moved.
Built during World War One, under the guidance of then parish priest Fr Thomas O'Grady, it was officially opened 2 March 1919 on its original site on what is now Albany Highway.
Fr O'Grady dedicated the church to St Munchin, patron of his birth place, County Limerick, in Ireland.
The jarrah wood construction was first moved in 1964 to stand behind the new church, Our Lady of the Most Blessed Sacrament, which had been built the previous year to cater for the growing number of Catholics in the area.
The old church was used as a classroom, until it was moved again, in 1979, to the grounds of St Munchin's Primary school which had opened in 1978, three kilometres from the Albany Highway site.
A new church on the school grounds was also opened, officially dedicated on 15 August 1979 by Archbishop Lancelot Goody.
When Fr Lim arrived at the parish three years ago, the old wooden church was being used by a local scout group but, with the lack of toilet facilities and the ageing of some of the external covering, the parish could not insure the building and it has remained unused since.
Fr Lim said that despite several parties showing interest in securing the building, it was still available for the taking.
"It is our original church and it has a lot of character and history," he said.
"Demolition is a last resort and we are exploring a number of avenues and, hopefully, we won't have to get to that point."
If no interested parties come forward in the near future, then Fr Lim said he may have to resort to online advertising such as Gumtree, a popular Internet selling site.
"And if nothing eventuates from that," he joked, "perhaps we could organise a church renovation television series."
Anyone interested in finding out more, contact the Gosnells parish on 08 9398 2331 or email secretary@gosnellsparish.org.au.