Fr Chris Dowd presents biography of Perth's first Archbishop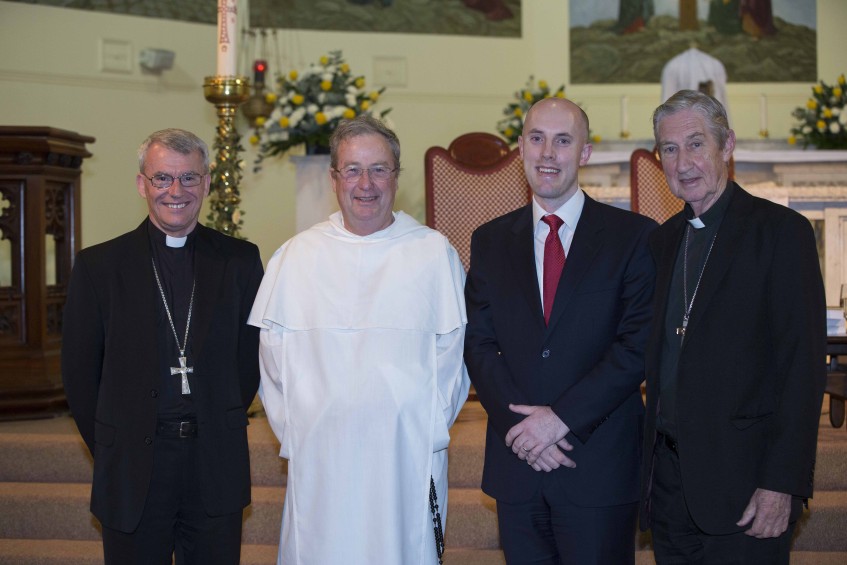 Fr Christopher Dowd OP (second from left) stands with Archbishop Timothy Costelloe SDB, Odhran O'Brien and Archbishop Emeritus Barry James Hickey at the launch of two biographies on Archbishop Clune CSsr and Bishop Martin Griver at the Redemptorist Monastery on April 28. PHOTO: Supplied
By Marco Ceccarelli
Christopher Dowd OP, Faith, Ireland and Empire: The Life of Patrick Joseph Clune CSsR, Archbishop of Perth, Western Australia, St Paul's Publications, Strathfield, NSW, 2014; pp 416; softcover
In his latest venture into the history of the Catholic Church in Australia, Fr Christopher Dowd OP presents an elaborate, captivating and insightful biography of Perth's fourth Bishop and first Archbishop, the Most Rev Patrick Joseph Clune CSsR DD.
Faith, Ireland and Empire traces the life of Archbishop Clune from his early life in Victorian Ireland and education in Dublin's Catholic Missionary College of All Hallows, to his work as missionary priest in Australia and New Zealand and eventual appointment as Archbishop of Perth.
The author of this book has done an exceptional job at portraying the triumphs and struggles of a talented and influential religious figure who left a significant mark on the history of the Catholic Church in Western Australia.
The first two of the book's 17 relatively brief chapters focus on Clune's early upbringing in County Clare, Ireland, and his entry into All Hallows, where Clune began his studies for the priesthood at age 17.
Dowd meticulously follows the development of a young Clune, from his ordination in 1886, at the age of 22 as a teacher at St Patrick's College, Goulburn, New South Wales, to his entry into the Redemptorists.
Despite spending four years in missions throughout England and Ireland from 1895 to 1898, it seems Clune was destined for what Dowd calls "Ireland's global spiritual empire" (p 23), which included Australia as an extension of that "Greater Ireland" in need of spiritual growth and maintenance.
The reader's attention is therefore brought back to Clune's work in Australia.
From 1899 onwards, despite a period served in New Zealand as superior of the Redemptorist monastery in Wellington, the diocese of Perth was to become the focus of Clune's ministry.
In Perth, Clune assisted Bishop Matthew Gibney in a number of tasks within the diocese, and gradually made a name for himself among the local population.

Dowd's research demonstrates that Clune was a remarkable preacher, at one time earning the title of "golden tongued orator of the golden west" (p 71).

Clune's growth of rapid popularity, both in Australia and overseas, made him a likely candidate to the position of new bishop.
His consecration as Bishop of Perth came sooner than expected as Gibney was requested by Rome to resign in March 1910.

On this crucial period of Clune's life, Dowd delivers a balanced analysis of the newly elected Bishop's achievements and struggles in guiding the diocese.
Clune inherited a vast diocese on the brink of bankruptcy, entered a bitter and long-lasting quarrel with Gibney soon after his appointment as Bishop, and had to prepare for the tormenting experience of World War I.
In fact, Chapters 9 to 13, in which Dowd skilfully recounts the actions of a "hands on" Clune bringing diocesan debt under control and persuading the Holy See to erect his diocese to metropolitan status, can be considered the most captivating of the book. At the same time, we also see Clune at the war front, making a strong impression as senior chaplain to Catholic soldiers.
In the midst of the Anglo-Irish war of the early 1920s, Clune was even invited to negotiate between the British government and Irish Sinn Féin leaders, a role he put heart and soul into, but which did not yield the desired results.
Back home, the reader learns of Archbishop Clune's expansion of the Perth diocese, of his paying attention to the diversity of cultures living in it, and of his initiatives in the fields of education, child social services, ecumenism and architecture.
Between 1921 and 1931, Clune opened 56 churches, schools and convents throughout his diocese.
In May 1930, he opened a new, visually stunning section of St Mary's Cathedral.
Dowd's balanced approach informs his readers that Clune's "pastoral, gentle and fatherly" reign (p 244) was at times tainted by failures.
These included the unpopular grouping of convents in the diocese into large federations, his lack of fairness and loyalty to the architect/priest John Hawes and bad political judgement of the conflict in Ireland.
Nonetheless, Dowd's outstanding examination of Clune's life leaves the reader in no doubt as to the magnitude of this Archbishop – a greatness appreciated by the hundreds who paid tribute to his life after his passing on 24 May 1935.
Rich in historical detail and bibliographical references, Faith, Ireland and Empire will appeal to those wishing to further their knowledge of Patrick Clune and early 20th-century history of the Catholic Church in WA and researchers seeking a firmer grip on a crucial page of Australian history.
Copies of the book are available from the Archdiocese of Perth Historical Commission for a special price of $20. To place your order Click Here