New scholarship fund to provide education for underprivileged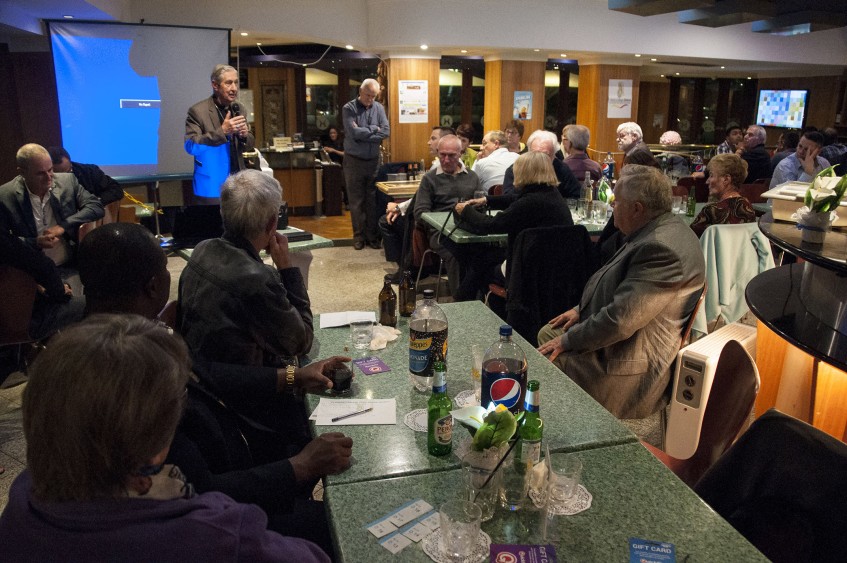 Archbishop Emeritus Barry James Hickey made a brief speech about the Scholarship Fund to more than 80 people gathered for the launch of a scholarship fund at Han's Café in Joondalup at the end of last month. PHOTO: Mat De Sousa
By Mathew De Sousa
More than 80 people gathered at Han's Café in Joondalup at the end of last month for the launch of a scholarship fund which is aimed at sustaining the development and growth of St Vincent College of Education in Yendi, Ghana.
Attended by a diverse group of supporters, including local engineering company Georgiou, the Catholic Development Fund, Emmanuel Catholic College, Success and St Simon Peter Primary School, Ocean Reef, the event featured speakers such as founder and future member of the administrative team of the college, Father Erasmus Norviewu-Mortty; the Hon Jan Henrik Norberger MLA, Member for Joondalup; and Archbishop Emeritus Barry Hickey.
Fr Norviewu-Mortty spoke on the conception of the college and reasons why Yendi was chosen as a suitable spot for its upcoming establishment.
"This project was born through the ideas of a few people, most especially Bishop Vincent Boi-Nai. He had a passion to educate the neglected, disadvantaged, rural folks of Yendi localities, who are mainly Muslims, as a way of impacting God's love to the poor and needy," Fr Norviewu-Mortty said.
"He noticed that the villages around Yendi, though they have schools, have hardly any qualified trained teachers to teach the students. Some students could hardly spell their own names correctly upon completion of Year 9," he added.
With a majority of the town being Muslim, Fr Norviewu-Mortty explained how it was important for Bishop Boi-Nai to employ Peacebuilding and Conflict Resolution strategies to connect with the Muslim population and encourage Christian-Muslim cooperation.
Fr Norviewu-Mortty also spoke about the impact that the college will have on the impoverished rural children of the surrounding villages.
"Yendi College aims at recruiting the children of disadvantaged rural people (who passed their Year 12 with good grades) and train them to become qualified teachers, who can teach from pre-school all the way to year nine.
"After three years of the normal program for the Diploma of Education, the brilliant ones in college will go ahead for a fourth year where they will get a Bachelor of Education.
"This project will keep many girls in our schools finally. The girls usually don't go to school because their mothers are afraid to send them to schools where there are hardly any qualified teachers to manage the classes. Rural girls left on their own without much supervision in school sometimes end up with teenage pregnancy, an abomination to these rural mothers. So this college will change a lot of lives," Fr Norviewu-Mortty said.
Fr Norviewu-Mortty concluded the event with a slideshow outlining the project's progress and acknowledged the benefactors in Perth for their support.
Also present to help launch the scholarship fund and Friends of St Vincent volunteers group was the Hon Jan Henrik Norberger MLA, Member for Joondalup, who has been a great supporter of St Vincent College of Education.
"I have been very excited about anything that would help impoverished nations around the world. What we have witnessed tonight, which we can take for granted, is the difference that education can make," Hon Norberger said.
"And whilst I am absolutely passionate about Joondalup, I think we should never get to a point where we would be so inward looking that we become completely focused on ourselves."
He went on to describe the scholarship fund as an "outstanding initiative" which, rather than fundraise for one container to be sent over, would continue to sustain the operations at the new college.
Hon Norberger will be a part of the Friends of St Vincent group, which is made up of volunteers who will meet up a few times a year and are keen to see St Vincent College of Education succeed.
In each year of training, the St Vincent College of Education scholarship fund will ensure that 25 per cent of its students come from poor areas. It will cost 3,100 AUD for them to be supported over three years and it is hoped that an annual fundraiser as well as several other events will continue to contribute to that fund.
To support the scholarship fund or the development of the college, contact Fr Erasmus on 0401 329 829 or John on 0419 199 990.