Parish's Sacramental program has everybody smiling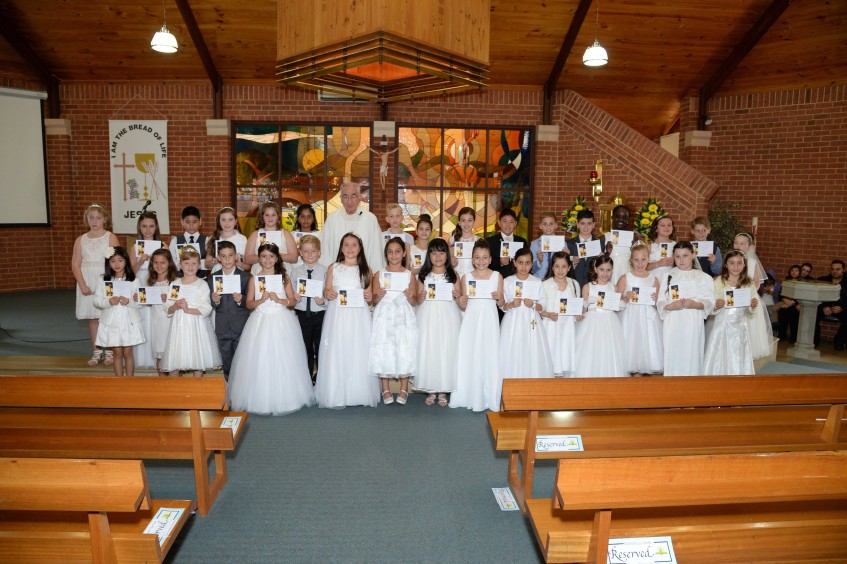 Over the past three years, including a growing number attending State schools, almost 1,000 students have participated in the Sacramental
program at St Kieran's Osborne Park. PHOTO: Supplied
By Mark Reidy
Almost 1,000 students over the past three years, including a growing number attending State schools, have participated in the Sacramental program at St Kieran's in Osborne Park and parish priest, Father Michael Gatt, couldn't be happier.
He said, this year, 70 of the 320 students receiving the Sacraments of Reconciliation, First Holy Communion and Confirmation were from outside the Catholic school system.
"I am delighted to have this many children from State schools passing through our six-week course," Fr Gatt said excitedly.
"We are able to provide them with the opportunity to receive the Sacraments that they would otherwise miss out on."
The passionate Maltese priest oversees a team of dedicated Catechists who meet with the children over this period to teach and prepare them for the occasion.
He is pleased with the opportunity to encourage and nurture the faith of so many young people outside the Catholic education system, not only for the life-changing benefits it provides for the individuals, but also for the ripple effect he believes it will have in the broader community.
"These young people are able to take the information to their homes and involve their fathers, mothers, brothers and sisters," he shared, "and, by bringing them to church, the whole family receives education in the faith."
With 47 years' experience as a priest, Fr Gatt is aware that not all who receive the Sacraments will continue to practise in the Catholic faith, but hopes that the opportunity his team provides will open the door for future participation in the Church when they reach adulthood.
"We must take responsibility for providing these openings," he said.
"If we don't intervene now, they may remain without the Sacraments for their whole lives."
Fr Gatt, who arrived at St Kieran's in 2000 and is now the parish's longest-serving priest, is pleased that positive word of mouth and social media networks have allowed such a large number of families to discover and utilise the programs and is confident that these numbers will continue to increase in the coming years.
"We are pleased with what we are achieving here," he rejoices. "I make the children happy and they make me happy. It is a very exciting time."