Rottnest Mass Centre celebrates 40 years
HOLY TRINITY MASS CENTRE ON ROTTNEST ISLAND CELEBRATES 40 YEARS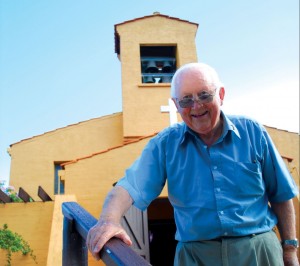 Monsignor Sean O'Shea walks from Holy Trinity Mass Centre on Rottnest Island in 2012. Some 90 people gathered last weekend to celebrate the 40th anniversary of the Holy Trinity Mass Centre. PHOTO: Anthony Barich
By Jamie O'Brien and Mark Reidy
Some 90 people gathered last weekend to celebrate the 40th anniversary of the Holy Trinity Mass Centre on Rottnest Island with the memory of Monsignor Sean O'Shea, who served at the Mass Centre for over 50 years, front and centre.
Perth Archbishop Emeritus Barry Hickey, who celebrated Mass for the occasion, said many of those present for the event had known Mgr O'Shea and had assisted him in many ways over the years with the upkeep of the Mass Centre and the other facilities surrounding it.
"Mgr O'Shea's enormous contribution to the Church's presence on the island was affirmed," Archbishop Emeritus Hickey said.
Archbishop Emeritus Hickey went on to say that current parish priest Father Leon Russell was now carrying on the friendly tradition of Mgr O'Shea by getting to know the local business owners and residents of the island, in addition to welcoming the visitors, many of whom are school leavers.
Fr Russell, who concelebrated the Mass with Archbishop Emeritus Hickey, said it is pleasing to see the place continue to breathe the life of Mgr O'Shea.
"His presence can be seen everywhere," Fr Russell said.
Mgr O'Shea led the Catholic Community of Rottnest Island from 1961 to 2012 and was the catalyst behind the building of the new Mass Centre.
In the early 1970s, he approached then-Archbishop of Perth, Lancelot Goody, pointing out that Mass was being celebrated in a World War II-era hut and picture theatre, proposing that a more permanent and official structure be established.
The Archbishop agreed and the church, with an attached residency, visitors' quarters, sacristy and office, was built and opened on Sunday, 25 May 1975.
Mgr O'Shea's influence didn't stop there and, ten years later, he was able to utilise his seafaring contacts to engage the services of the US Navy to fly the newly-purchased carillon of bells to the island.
He also managed to convince the Navy servicemen to install the bells via helicopter in time for the tenth anniversary of the church, when the bells were blessed by former Archbishop of Perth, William Foley.
Mgr O'Shea was to spend 11 years living on the Island before retiring in June 2012, and later passing away to eternal life in December 2012.
After the Mass and morning tea, when stories were exchanged, Fr Leon Russell took Archbishop Emeritus Hickey on a tour of the expanded settlement area and introduced him to the owners and staff of the many shops that now trade on the island.
"The presence of the Church can hardly be ignored because of the constant ringing of the carillon of bells by the children," Archbishop Emeritus Hickey said.