St Mary's Cathedral Mater Ecclesiae Concert a resounding success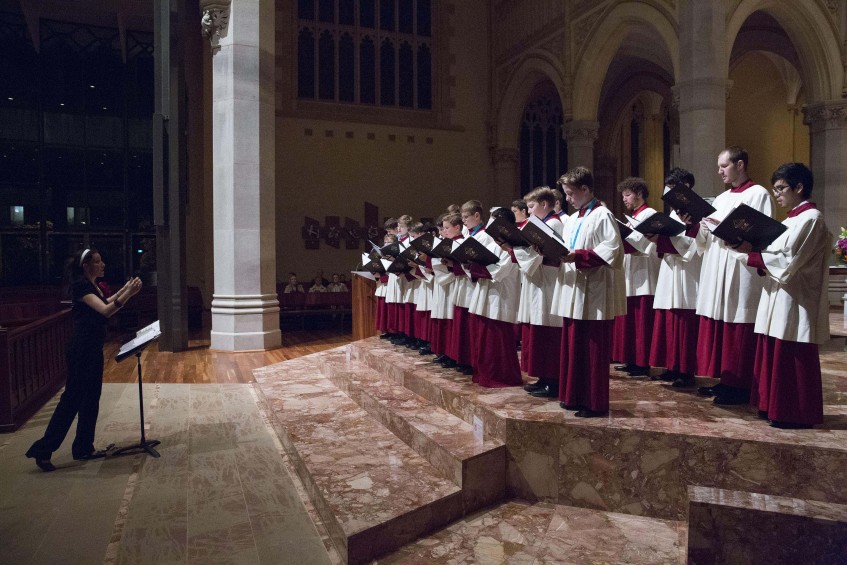 Performed under the candlelit grand arches of St Mary's different chapels, the Mater Ecclesiae Candlelight Concert, held last month at St Mary's Cathedral, contained an eclectic mix of works ranging from choral works of Victoria and ancient Pentecost chants to Messiaen and contemporary Australian organ works. PHOTO: Ron Tan Photography
By Marco Ceccarelli
More than 100 people were treated to a soul-stirring musical performance within the walls of St Mary's Cathedral on Sunday evening, 24 May.
The Mater Ecclesiae Candlelight Concert, a program of music celebrating Mary, Mother of the Church on the Solemnity of Pentecost, featured the harmonious voices of the Cathedral choir, the mesmerising solos of the Cathedral's principal cantor, Carly Power, and the majestic sounds of the Cathedral organ.
Performed under the candlelit grand arches of St Mary's different chapels, the event contained an eclectic mix of works, ranging from choral works of Victoria and ancient Pentecost chants to Messiaen and contemporary Australian organ works.
"Although this was not a liturgy, it was very spiritual experience nonetheless," said Director of Music at St Mary's Cathedral, Jacinta Jakovcevic.
"In this particular program, we combined old and new, which in a way reflected our country.
"Australia is very ancient, the land and Indigenous cultures have been here for millennia, but there is also a new element, comprised of very fresh and new cities and contemporary architecture.
"Pondering on this combination gave us an opportunity to musically blend old and new and give life to a program that mixed different periods of music together," Ms Jakovcevic added.
As they processed in and were initially divided into the Sacred Heart and St Therese Chapels of the Cathedral, the different parts of the choir sang to each other at different intervals and were complemented by a trio that sang from the middle.
The choir and soloists then gathered onto the sanctuary to harness their voices into one exquisite chant that, according to Ms Jakovcevic, stirred both Catholics and non-Catholics alike.
"These are largely Catholic programs," she said "but to see non-Catholics come into the Cathedral and enjoy these concerts is very gratifying."
Ms Jakovcevic also added that concerts such as these give young talented Perth musicians a rare opportunity to perform within a grand forum and in front of a live audience. For this reason, she commented on how great it was to see these youths supported in their musical journey.
The Mater Ecclesiae Candlelight Concert was the first of the Cathedral's 2015 Concert series.
The next performance, entitled A Pageant of Hymns, will be held on Sunday, 9 August 2015 at 2pm, and will include an audience sing-along.
The third concert, entitled Music for Wind and Brass, will be presented jointly with the UWA School of Music. It will be held on Tuesday, 27 October 2015, at 7.30pm.
The Dean of the Cathedral, Monsignor Michael Keating, warmly invites all to come and enjoy the Concert Series within Perth's iconic Cathedral.
Tickets are available through ticketsWA.com or by calling 08 6488 2440 (noon-4pm weekdays). Tickets are also available at the Cathedral Piety Stall.
Proceeds from the 2015 Concert Series will go towards the Cathedral's fundraising appeal.