Hospital Key handed to St John of God
KEY TO THE HOSPITAL HANDED TO ST JOHN OF GOD HEALTH CARE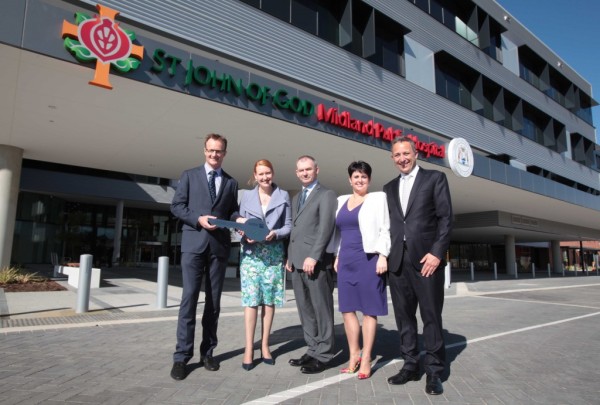 St John of God Health Care Executive Director Perth Northern Hospitals Dr Lachlan Henderson, The Hon Donna Faragher MLC, Member for Eastern Metropolitan Region and Parliamentary Secretary to the Premier, WA Health Minister the Hon Dr Kim Hames MLA, the Hon Alyssa Hayden MLC Member for the East Metropolitan and SJGHC Midland Hospitals CEO Glen Power. PHOTO: SJOG Health Care
St John of God Midland Public Hospital is one step closer to opening on time and on budget on 24 November 2015 with construction handover of the building now achieved.
The handover was marked at a ceremony when Brookfield Multiplex handed the key to the building to Minister for Health, the Hon Dr Kim Hames MLA, and St John of God Health Care Executive Director Perth Northern Hospitals, Dr Lachlan Henderson.
Dr Henderson said the 307-bed public hospital was on time and on budget, with commissioning work now under way to prepare the facility and orientate more than 1,000 staff.
"This is a significant milestone for St John of God Health Care so we can now move into the building and begin clinical commissioning," Dr Henderson said.
"During the next five months, leading up to when we welcome our first patients, we will go through the commissioning process, which includes orientating caregivers and installing and testing clinical equipment.
"I thank our construction partners, Brookfield Multiplex, and design consultants, Hassell, who have made St John of God Health Care and the state government's joint vision for care close to home a reality."
Brookfield Multiplex's Regional Managing Director, Chris Palandri, said completion of the hospital building demonstrated the company's ability to deliver large, complex projects. It is a major achievement for the company which is at the forefront of development for WA's healthcare renewal program.
"Collectively, Brookfield Multiplex has delivered more than $2.5 billion in new health infrastructure for state and federal governments, and private enterprise, in recent years," he said.
"Handing over possession of the hospital signifies the transition from a construction site into the early stages of a fully functioning healthcare facility."
Mr Palandri said the great relationship with St John of God Health Care enabled it to complete all works on time and to budget which for, a project of this scale, is a huge achievement.
St John of God Midland Public Hospital is part of the state government's Bigger Picture Health $7 billion hospital building and refurbishment program. The $360 million facility is jointly funded by state and federal governments.