Ignite Youth explodes music and prayer
IGNITE YOUTH LIGHTS NEW FLAME FOR NEW EVANGELISATION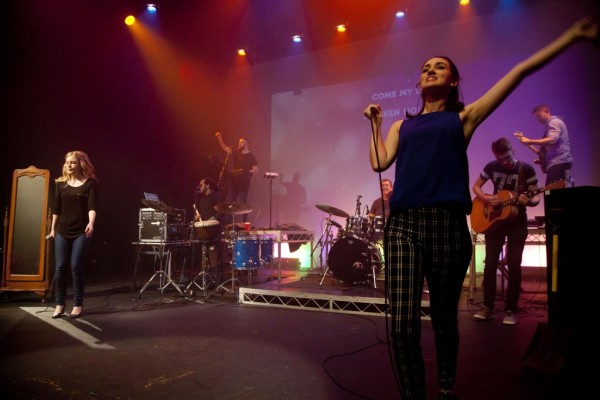 Last week Friday June 19, groups and individuals from across Perth gathered at the Prendiville Catholic College Performing Arts Centre for a night that included everything from explosive music to quiet prayer. PHOTO: Supplied
In a time when it's becoming increasingly difficult to sustain local youth groups, Ignite Youth has lit a new flame in the Archdiocese of Perth.
In an interview with the eRecord this week, Ignite Youth Co-ordinator Ronan McGinniss said that, instead of scaling things down, Ignite Youth events are all about scaling things up.
Last week, Friday, 19 June, groups and individuals from across Perth gathered at the Prendiville Catholic College Performing Arts Centre for a night that included everything from explosive music to quiet prayer.
"A powerful statement is made to society when hundreds of young people gather at a local Catholic youth gathering," Mr McGinniss said.
"We are passionate about our Catholic faith and we want to showcase the Church to teenagers and young adults who might otherwise look elsewhere for meaning and belonging."
Mr McGinniss went on to say that what impressed him about the night was that, when looking back at what took place over just two hours, it's hard not to smile when you see a teenager who comes along for the loud music and ends up being profoundly impacted by the message that was delivered on the night – in this case, by Deacon Aaron Peters.
"The same teenager ends up talking with a priest during the Sacrament of Reconciliation and then later on enjoys a conversation with the DJ in the foyer," Mr McGinniss said.
"There is certainly lots going on."
Many appeared to attend the night, said Mr McGinniss, as part of a school group, some with a parish group and others with a friend.
"What was clear was that, with a large crowd present, the concert-like sound and lighting set the tone perfectly.
"If an AFL game is the culmination of grass roots footy, Ignite Live feels like the culmination of grass roots ministry.
"We know that a parish is the place that provides for the all-round needs of young people as they grow in their faith.
"However, we also believe that approaching the new evangelisation seriously means creating a number of flagship events that are attractive to young people and that serve the Church.
We have assembled an amazing team of passionate clergy, teachers, youth workers, event co-ordinators and musicians with a wealth of experience."
Ignite Youth is a national ministry which was born in Brisbane, and a local Perth team has formed in partnership with Catholic Youth Ministry in order to offer the successful 'Ignite Live' nights in Perth.
The recent event was the third of six similar nights being held throughout 2015.
For more information and to see video highlights of the events, visit: igniteyouth.com/perth.