Pope blesses Perth's newest Pastoral Area
PERTH'S NEWEST PASTORAL AREA RECEIVES POPE FRANCIS'S BLESSING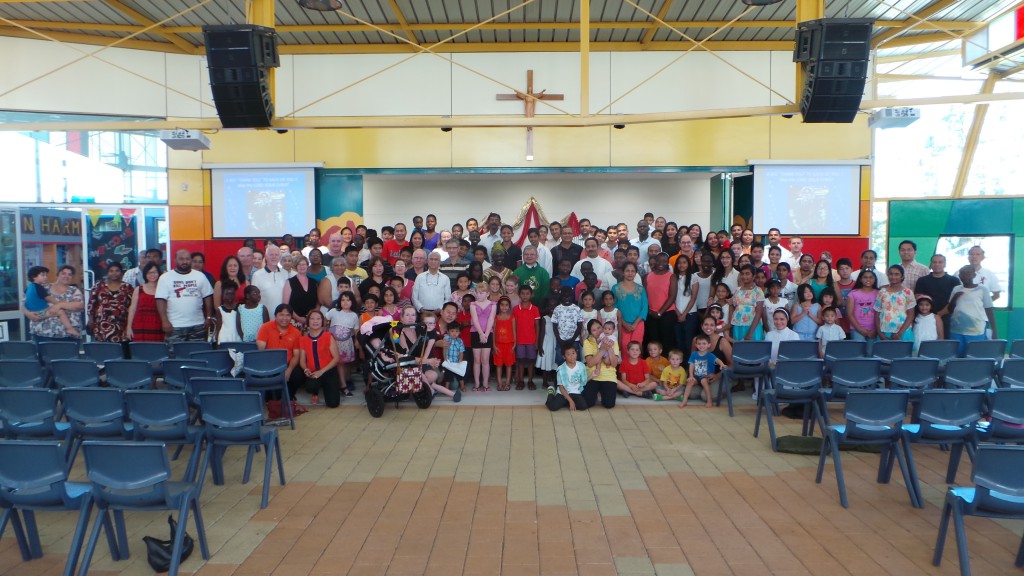 Fr Vinh and the new congregation at Banksia Grove Catholic Primary Catholic school where Mass is currently celebrated. PHOTO: Supplied
A great sense of excitement permeated through the 400-strong crowd at the Banksia Grove Catholic Primary School when inaugural priest-in-charge, Father Vinh Dong, recently unveiled two foundational stones personally blessed by Pope Francis.
The stones, on which the community's future church will be built, came as a surprise to those who had gathered for Mass to witness Archbishop Timothy Costelloe SBD officially install Fr Vinh as the first priest-in-charge of one of the Archdiocese's newest pastoral areas.
Fr Vinh explained to the congregation that the stones had been blessed earlier in the year in Sri Lanka when he had been received by the Pope in a private audience.
For the past 18 months, the fledgling community, which lies 27km north of Perth, had been celebrating weekly Mass at the primary school with Fr John Daly from St Anthony of Padua Parish in Wanneroo.
Usually about 80 locals gather for the occasion but they were joined for Fr Vinh's installation Mass by his family and supporters from his previous parishes of Lockridge and Greenwood.
Fr Vinh's sense of humour was on show to his new parishioners as he provided them with an entertaining summary of his life from his journey from Vietnam as a 12-year-old refugee to his reluctance to accept his first posting in Kalgoorlie.
He also reflected on later metropolitan placements, including his most recent in Greenwood, fondly reminiscing on the challenges, the people and the love he encountered in each parish.
Fr Vinh analysed the significance of the names of several of the parishes, emphasising the "lock" in Lockridge, stating he had been locked into the parish for 10 years, the longest he had ever been stationary in his whole life, as well as "bank" in his recent placement, emphasising the responsibility he now had in raising money for the church building and supporting a growing community.
The effervescent priest also shared the sense of support he felt from his Greenwood parishioners who had sent him off with $25,000 to begin his latest venture and a further $4,000 which had been provided by individual friends from across Perth.
Fr Vinh's pioneering mission in Banksia Grove will be supported by Sr Tuyen Nguyen and Sr Duyen Truong, two Vietnamese Dominican Sisters who will assist him with his pastoral and outreach work as they seek to strengthen the embryonic community.
Celebrations continued after Mass with a morning tea, which was followed by more than 100 members of the congregation processing to the convent and new, temporary presbytery for a blessing.
Fr Vinh said he hoped the curiosity piqued by Banksia's Grove's first procession, which saw many residents glancing through their windows, would plant the seeds for a prosperous future.