Mercy Health Assistant has X Factor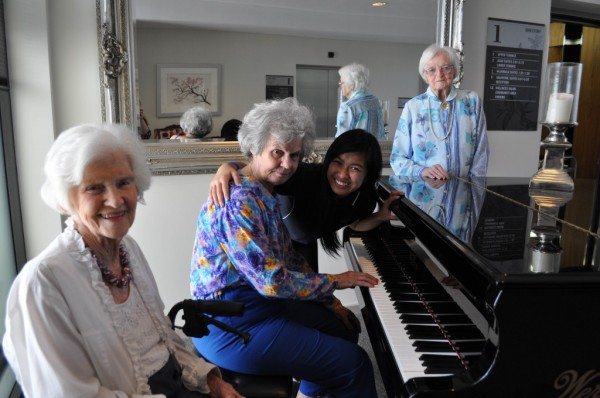 Australians may soon become aware of a well-kept secret that residents and staff at Claremont aged care home Mercy Place Mont Clare have been privy to for a while – their much-loved nursing assistant has the voice of an angel.
Filipino-born Mayumi Morales, 19, who began working for Mercy Health soon after migrating to Australia with her family in May last year, has passed the first audition for the popular X Factor talent show and will soon hear if she has passed the second audition to go onto participating in the next series.
Ms Morales, who belongs to the Youth for Christ community, studied music at the University of the Philippines and majored in classical voice, admits that gaining the opportunity to perform on the hit TV show would be a dream come true.
"My passion is singing and I was lucky enough to travel to Hollywood when I was 13 to represent the Philippines in the world championships of performing arts," she says.
"Since I've lived in Perth, the residents where I work at Mercy Place Mont Clare have encouraged me to follow my dreams; they love to hear me sing, particularly our residents living with dementia, and they've asked me to perform for them many times.
"I was very nervous to take part in the auditions, but have been supported so much by my family, my work colleagues and the residents, who are continuously telling me I have a lovely voice and are totally supportive of my dream to become an opera singer one day."
Mercy Health WA State Manager, Ms Anita Ghose, says Mayumi is a wonderful member of the Mercy Health team who brings great joy to residents with her enormous vocal talent.
"Mayumi comes in regularly on her days off and sings beautifully while one of our residents faultlessly plays our grand piano. Their performances are incredible and our residents are absolutely captivated.
"The whole team at Mercy Health, and particularly our residents, are keeping everything crossed that Mayumi gains the opportunity to perform on the X Factor; she has an incredible talent and also has a huge fan club in our residents and staff."
Ms Morales will learn in late May if she has been successful in her second X Factor audition.
Mercy Health is a Catholic community not-for-profit provider of care, founded by the Sisters of Mercy and grounded in a 2,000-year history of caring for those in need. The organisation is a national service provider of health and aged care throughout Victoria, Southern New South Wales, Western Australia and the Australian Capital Territory. In Western Australia, the organisation cares for over 300 people across six residential homes, with 78 independent living units.