Organ builder revisits fruits of his labour at St Mary's Cathedral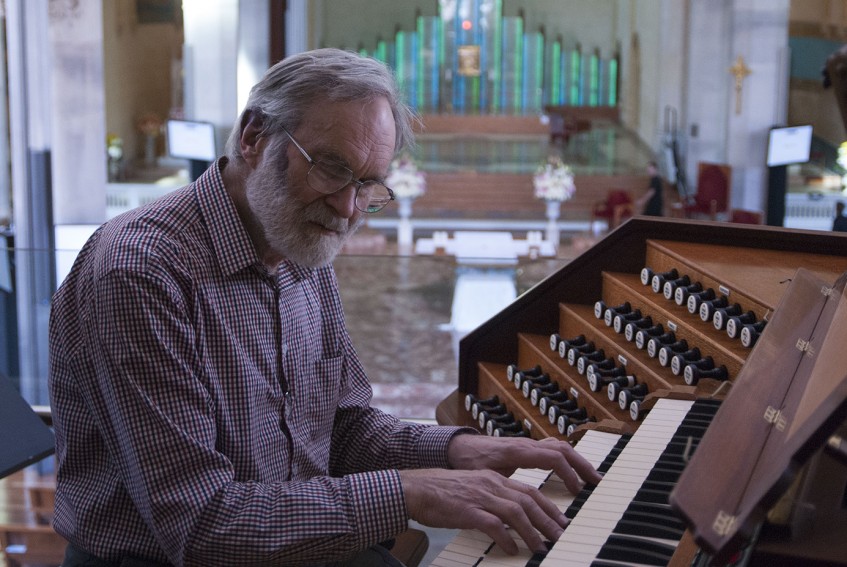 Mr Hargraves, pictured tuning one of the pipe organs he restored for the 2009 grand re-opening of St Mary's Cathedral, was recently in Perth to deliver two illustrated talks on the art of organ building and restoration. PHOTO: Marco Ceccarelli
By Marco Ceccarelli
Memories of the 2009 grand re-opening of St Mary's Cathedral, Perth recently resurfaced among enthusiasts of Cathedral music as two pipe organs were visited by their restorer, John Hargraves.
Director of the renowned South Island Organ Company (SIOC) in New Zealand, Mr Hargraves visited the Cathedral on Saturday, 19 September 2015 to present two illustrated talks entitled Rebuilding St Mary's Cathedral pipe-organs in honour of Mr Dodd and Mr Hobday and My life as an organ builder.
Mr Hargraves also had an opportunity to assess and tune the two pipe organs within the Cathedral while recalling the time during which he was in charge of their restoration.
"The project of restoring and rebuilding the two organs for St Mary's Cathedral in Perth germinated in 2005 when we were invited to submit a proposal based on the success of our instruments at St Patrick's Basilica, Fremantle," Mr Hargraves said.
"Once the contract was signed, the Cathedral organ was dismantled and brought to our workshop in New Zealand, where it sat for nearly two years while the new Cathedral plans were finalised. St Mary's organ project took over 20,000 hours of labour to complete and was a large, complex and intensely satisfying undertaking from many points of view - musical, architectural, liturgical, design, heritage and craftsmanship," he added.
Reflecting on a high point of his experience restoring the two organs, Mr Hargraves spoke of the intense work that went into having the instruments ready for the re-opening of the Cathedral in 2009.
To this day, he says he looks on that period with fondness and is proud to see "these wonderful organs" still working magnificently.
"Designing and having the organs completed in time for the re-opening of the Cathedral was truly a highlight for me. Their installation took three months from 14 September: this was quite challenging as we were doing a massive and intricate work alongside the construction workers right up to the last day.
"I was so happy to attend all the special services and events of the re-opening with one of the two WA organ builders, Colin van der Lecq, who assisted our company with the work," he said.
St Mary's Cathedral is not the only landmark building in Perth that has seen Mr Hargraves' company carry out professional works of restoration in the new millennium. The majestic organs of The University of Western Australia's Winthrop Hall and St George's Cathedral also underwent work by SIOC in 2005 and 2010, respectively.
In 2010, Mr Hargraves was named a member of the New Zealand Order of Merit in the Queen's Birthday Honours List for services to organ restoration.
Established in Timaru, New Zealand in 1968, SIOC's restoration philosophy is based on conserving the original fabric and musical character of the instrument as far as possible and reconstructing missing, worn-out or modified parts in facsimile style and materials, wherever practicable.
In most cases, SIOC aims to restore the organ as a working instrument rather than a museum piece and to recreate the original sound and feel of the organ where this has been lost or compromised.