Perth clergy unite to celebrate the gift of Ordained Ministry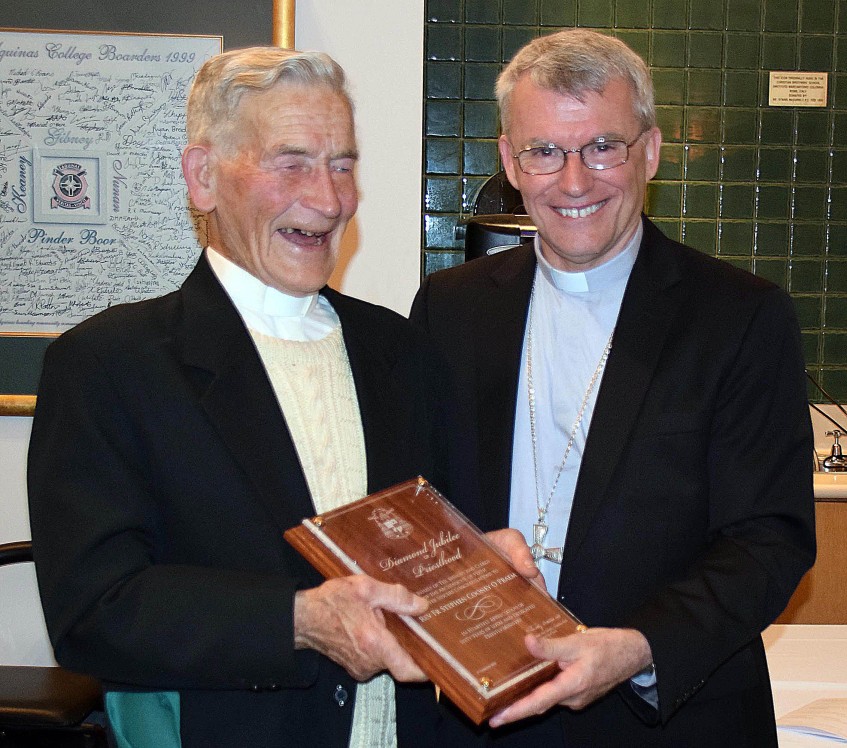 Fr Stephen Cooney OPraem, who recently celebrated 60 years of priesthood, with Archbishop Costelloe. Fr Cooney is currently Parish Priest at St Patrick's York. PHOTO: Supplied
More than 175 priests, deacons and seminarians from across the Archdiocese last month gathered at Aquinas College for the annual clergy Mass and Dinner.
The clergy were joined by Archbishop Timothy Costelloe and Auxiliary Bishop Don Sproxton for the occasion, together with Bishop Justin Bianchini from the Diocese of Geraldton and Bishop Christopher Saunders, from the Diocese of Broome.
Archbishop Emeritus Hickey, who was attending the World Meeting of Families in Philadelphia, and Bishop Gerard Holohan, from the Diocese of Bunbury, were unable to attend.
The annual event gives the clergy an opportunity celebrate a Mass of Thanksgiving for the gift of their vocation and to recommit themselves to the Lord and to his Church.
Speaking to the eRecord after the event, Archbishop Costelloe said the occasion was also an opportunity to acknowledge those who were celebrating special anniversaries.
"We also acknowledged our newly ordained priests and deacons," the Archbishop said.
Although the celebration is no longer held at St Charles's Seminary due to the large numbers involved, seminarians from the two seminaries are still heavily involved in the preparation and celebration of the Liturgy.
The Chapel at Aquinas College provided a perfect setting for a dignified, reverent and joy-filled Eucharistic celebration, greatly enriched by the music provided by Jacinta Jakovcevic, the Director of Music at the Cathedral, and the seminarians from St Charles.
Thanks were paid to Executive Assistant to the Archbishop, Jennifer Lazberger, who worked hard to coordinate the event, in addition to the Principal, teachers and catering staff at Aquinas College, who prepared the venue.
"Our priests, ably assisted in many cases by our permanent deacons, are at the heart of the life of our parishes and of our diocese," the Archbishop said.
"They are, for us, a living sign that Jesus continues to be among his people as their Good Shepherd.
"Let us continue to support our priests in every way we can, especially with our prayers, our understanding and our affection," he said.