Wheelchair fundraiser hits the mark at Mandurah Catholic College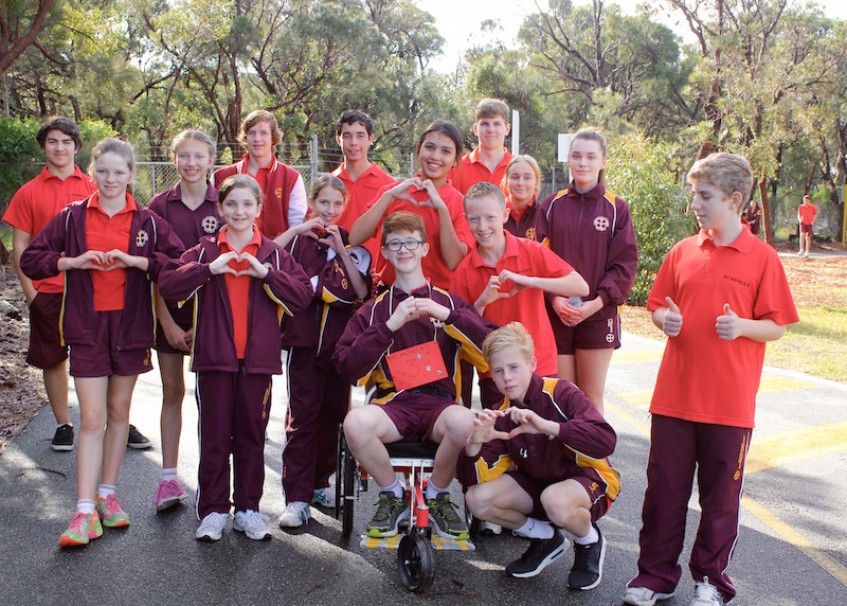 Students and staff at Mandurah Catholic College recently held a 'Wheel-A-Thon' fundraising event, raising an impressive $4,000 dollars for charity Wheelchairs for Kids. PHOTO: Supplied
Staff and students at Mandurah Catholic College have recently held a 'Wheel-A-Thon' fundraising event, raising an impressive $4,000 dollars for charity organisation, Wheelchairs for Kids.
The Wheel-A-Thon, organised by the college's St Monica's House, involved staff and students in their homeroom groups navigating a course through the college grounds in wheelchairs.
St Monica's House has been supporting Wheelchairs for Kids for 11 years, raising more than $50,000 to date for the organisation which builds wheelchairs for children in developing nations.
Br Ollie Pickett manages Wheelchairs for Kids' workshop in Wangara, with more than 100 retired men donating their time and expertise to build the chairs which are given to children with disabilities or armed conflict-related injuries, and limited access to health care.
This year, each student aimed to raise $150 each (the cost for the charity to build a wheelchair), and also donated soft toys and knee rugs to be distributed with the wheelchairs. The money raised through the Wheel-A-Thon will enable the volunteers at Wheelchairs for Kids to build about 25 new chairs.
Courtesy Catholic Education Office WA