Multicultural Mass displays splendour of gifts from across the globe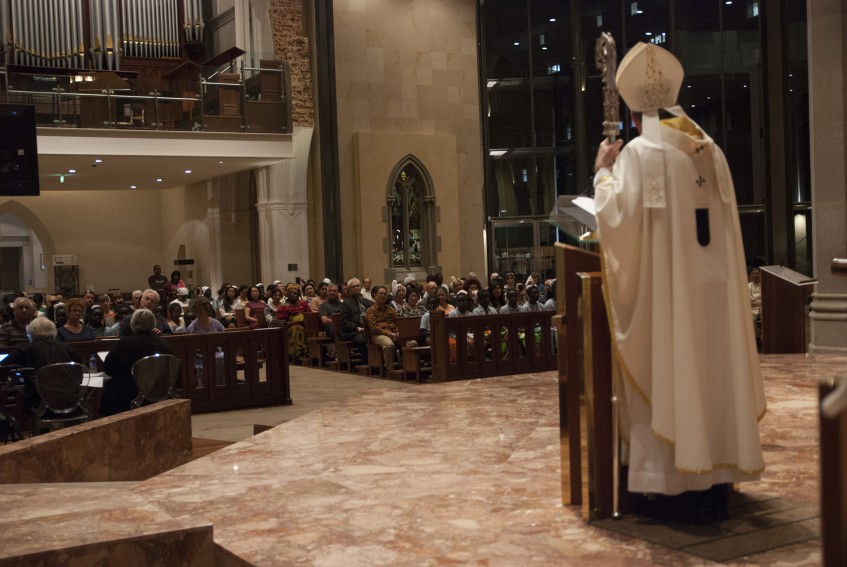 The various cultures in which the Gospel is proclaimed - and in which it finds a home - are a powerful sign of the rich creativity and fruitfulness of the Spirit of God, said Archbishop Timothy Costelloe last week, in celebration of the inaugural Multicultural Mass at St Mary's Cathedral. PHOTO: Jamie O'Brien
By Jamie O'Brien
The various cultures in which the Gospel is proclaimed - and in which it finds a home - are a powerful sign of the rich creativity and fruitfulness of the Spirit of God, said Archbishop Timothy Costelloe last week, in celebration of the inaugural Multicultural Mass at St Mary's Cathedral.
In the presence of some 200 people from across the Archdiocese, cultures from all over the globe were celebrated and embraced at the ceremony that took place on 1 October, in what will now be an annual tradition.
The Archbishop was joined by concelebrants Father Peter Whitely, Vicar General; Monsignor Michael Keating, Dean of St Mary's Cathedral; Deacon Truc and Fr Brennan Sia as MC for the occasion; and chaplains from the Perth migrant communities of Korea, Indonesia, Malaysia, Singapore, China, Vietnam, Croatia, Poland, Africa, Myanmar (Burma) and Malta.
The Archbishop went on to say that the many languages, traditions, musical styles, forms of dress, varieties of food and so on are an invitation to all of us.
"To wonder at the mystery and variety of humanity created in the image of God and a challenge to us to recognise that there is more than one way to give expression to our deepest feelings and dreams, our deepest joys and sorrows."
The Mass commenced with the procession of a number of African dancers, in addition to the native chants by members of the African community.
The Archbishop went on to open the Mass, praising the work of Sister Phyllis Robertson PBVM who, sadly, passed away recently in Ireland.
Sr Phyllis had an extensive ministry within the migrant communities of Perth and was a valued member of the Migrant Chaplains Committee.
"Her love, care and expertise will be sadly missed," the Archbishop said.
The first reading was then proclaimed in Chinese Mandarin, the responsorial psalm in Maltese and the second reading in Indonesian by native tongue speakers.
Deacon Truc then processed in with the Gospel, accompanied by the African dancers.
The congregation was also gifted with the singing of the Burmese (Myanmar) Catholic Choir and the African Choir at various parts of the Mass.
The celebration continued with further dancing by members of the African community during the offertory procession, which included two baskets of fresh fruit accompanied by the bread and wine.
Vicar for Migrants for the Archdiocese of Perth, Fr Benedict Lee, said the celebration of multiculturalism has, in past years, been generally held at a parish level around Perth, so it was a blessing to finally celebrate together.
"We hope and pray that, in 2016, the news will go across all migrant communities so that the celebration will be a strong sign of the beautiful gift of various cultures here in our Archdiocese," Fr Benedict said.
As he continued his homily for the occasion, the Archbishop went on to say that this richness and diversity of cultures makes itself known very powerfully in the variety of ways in which our Catholic faith and spirituality is expressed.
"One of the important aspects of tonight's celebration is the witness it gives that, in our Catholic community, we want our diversity to be something we celebrate and acknowledge as a wonderful gift from God rather than something about which we should be nervous or afraid."